A FARMING LIFE IN THE 1950s
JEAN HUTCHISON - as remembered by Fordyce Maxwell
"I don't know when Jean Hutchison got the tenancy of Hotel Lands (photos below) from the then Collingwood Estate although that could probably be found in the estate records. I do know she was farming the 70 acres from the cottage that lies between Mamie Simpson's and the old schoolhouse when we came to Cramond Hill in September 1951. She left sometime in 1956.

Nor do I know her early history, but believe that she was born locally and dressed like a man from her girlhood. When I first knew her in the early 1950's she usually wore a shirt and jacket, flat cap, heavy corduroy trousers and boots. She had a dark, weather-beaten complexion, not many teeth and a working farmer's hands. She shared the cottage with two sisters, one named Mame, but can't remember the name of the other. There were also two German former prisoners of war who worked on the small farm. I'm not certain if they stayed in the cottage with the three sisters or not.

Mame wore a dress, usually with wellingtons and a big apron. She's the one I remember bringing cows through the village from fields behind where the railway station was, where Station Gardens now is. They were brought in and milked in what was the Hotel Lands steading behind the Collingwood Arms. This is now detached houses.
| | |
| --- | --- |
| Hotel Lands Steading | |
At that time (1950s) there was a two-storey granary (photos below), a byre and several small outbuildings, used to keep hens and possibly pigs and a tumbledown shed/garage (photo below) made of sleepers. Bags of grain weighing up to two hundredweights (slightly more than 100 kilos) were carried up an outside flight of stone steps to the upper granary.
These four photos are taken from left to right. They show the two-storey granary.

These two photos show the flight of steps up which the bags of grain were carried

The shed/garage made of sleepers.
Maybe this was home for the prize pig?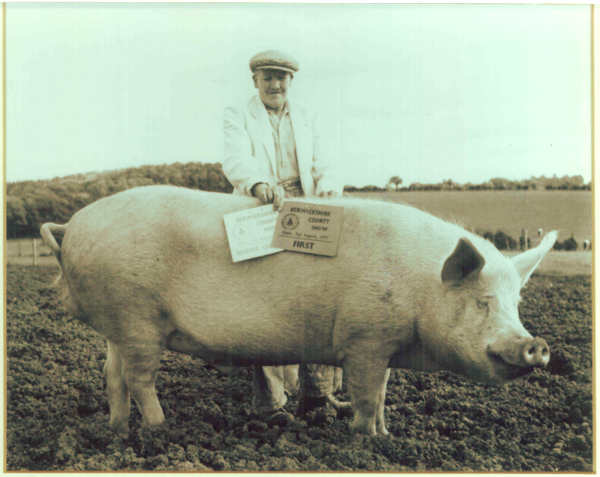 We think the top label reads "Berwickshire County Show,
(Saturday?) 3rd August 1957 FIRST"
Lower label reads "Berwickshire County Show ? ? RESERVE CHAMPION "
The 70 acres ran two fields wide from the station up towards Cramond Hill. One field was always referred to as Jean's Field. Another was The Covert and, of course, the Station Field.

Jean and the sisters worked hard, but the land and a small herd of Dairy Shorthorn cows would not have been enough to support them plus two workers even if she had been a much better farmer than she was. Dealers looking for cheap grazing for sheep and cattle also took advantage of her. The net result was that in 1956 she was forced to give up the farm. Jean, and possibly Mame to begin with, was then employed at Jim McGregor's farm Coldstream Mains to milk a herd of Red Poll cattle. She worked there for some years.

She was a friendly woman who always spoke to children, but never mastered my name. I was always "Fiddes". I don't recall her being teased or insulted about the way she dressed, she was simply Jean to the villagers. At that time it was also common for female farm workers to wear heavy work clothes, often borrowed or passed on from male relatives, so Jean blended in quite happily."
CORNHILL FARMER'S SUCCESS AT SUFFOLK SOCIETY SHOW
From Berwick Advertiser, 7th August 2008
A Fourth supreme championship success was achieved by the Northumberland based Flodden flock of Jonathon Hayward at the 34th annual Northern Counties of England branch of the Suffolk Sheep Society's pedigree show and sale at Skipton Auction Mart, held on Saturday.

Mr. Hayward, of East Learmouth, Cornhill on Tweed, landed top honours with his class-winning ram lamb and male champion, one of January-born triplets by the Bentley Bond-sired Hallhill Hudson, acquired for 2,000 guineas at Edinburgh last year.

Both the dam and grand dam were home-bred, the latter – by Strathisla Supreme Champion winning supreme honours at the 2003 Border Suffolk Club Show and a half sister to the female champion at the Northumberland County Show in 2005.

Although the title winner, making its debut in the exhibition arena, remained unsold, Mr. Hayward did find buyers for his first prize-winning pair of ram lambs, which sold for 390 and 400 guineas respectively. Both were products of Flodden championship winners at the Border Suffolk Club and Northumberland County Shows. While entry numbers were down due to continuing Bluetongue restrictions an improvement on last year, when, although the show went ahead as normal, the sale scheduled for the following day was a victim of the foot and mouth outbreak.

Jonathan Hayward has since sold East Learmouth Farm and returned down South. He bred pedigree Suffolk sheep and Highland Cattle which won numerous prizes at various agricultural shows.