2002-2019 Cornhill Shop
Reported in the Berwick Advertiser, 23rd May 2007.
NEWLY REFURBISHED, CORNHILL VILLAGE SHOP & COFFEE SHOP
MAKING A CHANGE FOR THE GOOD
Cornhill seems to be going through a transition period at the moment, the hotel being refurbished and new houses being built - and not to be outdone the owners of Cornhill Shop are only too happy to go along with the change.

In 2002, the owner Elspeth Bell decided to take her well-earned retirement after 20 years running the store. Morag Pitman and daughters Linda Waite and Julie Jones took over in the February of that year and the shop proved to be just as popular as it had always been with the locals. Now, they have decided the time is right for a major revamp of the store.

"We have always been a small newsagents, catering for the local townsfolk of Cornhill. We acted as newsagent, grocery, off licence and post office" said Julie. "Of course, it is important that we continue to provide these services for the people of the village, but now we hope to offer a lot more on top of these things."

As well as the store getting a complete make-over, there will also be a modern style coffee shop with hot and cold snacks on offer. Julie said: "We'll be selling food like muffins and doughnuts, as well as paninis and sandwiches. We're hoping this will make the store even more popular than it already is. As well as being able to do a general shop, you can take the weight off your feet and have a chat and a coffee before you head home."

The expansion has meant an increase in staff and there could yet be more job opportunities in the future. "We've already taken on a couple of new staff members and, depending on how things go, there also could be a couple of new vacancies in the near future," said Julie. In addition to this, opening hours on Sundays are now going to be slightly extended. Julie explained: "We've always been open from 6.30 am - 5.30 pm. Monday - Saturday, with the shop closing at 1 pm on a Sunday. Now however, the shop will be staying open until 4.00 pm on a Sunday to accommodate people who want to use the coffee shop." Julie sees this venture as a symbol of the expansion of Cornhill. The village is seeing a number of new businesses setting up here, as well as more established businesses that are having a revamp. This is a very exciting time for the village. The whole of Cornhill just seems to be taking off. It really is the place to be," she said.

Morag, Lynda and Julie see the revamp as being the start of a long-term investment. "We all see our futures here. We're planning on this as being the next 25 years of our lives, and we hope the people of Cornhill take to the place as much as we think they will," said Julie.

Local produce is also very important to the owners, and this is a point that will be stressed even more so when they re-open for business. "It seems that these days Borderers are taking more pride and interest in their area. Local products are becoming increasingly popular and we'll certainly be stocking a lot of it here," she said, adding: "We've always had local products, but they used to be a little harder to find. Now we want them to be at the forefront."

Reported in the Berwick Advertiser, 23rd May 2019.
Cornhill Village Shop, Café and Post Office was among the regional winners in the 2019 Countryside Alliance Awards
Lynda Waite and Julie Jones, owners of Cornhill Village Shop thanked the Countryside Alliance for this amazing award and they looked forward to meeting all the other finalists in the House of Lords in London in June. They also thanked their amazing staff without whom they would not have been able to achieve such an accolade, and also thanked their wonderful customers.
The awards, known as the Rural Oscars are the Countryside Alliance's annual celebration of rural produce, skills, enterprise and heritage through our small, hard-working businesses. The judges said, "This family-run business is focussed on serving this remote rural community with great local produce, a warm welcome for all and a most caring regard for the elderly. Big supporters of community events and keen fund-raisers for Macmillan Cancer, raising over £100,000, they are the hub of this community and are what a great village shop is all about."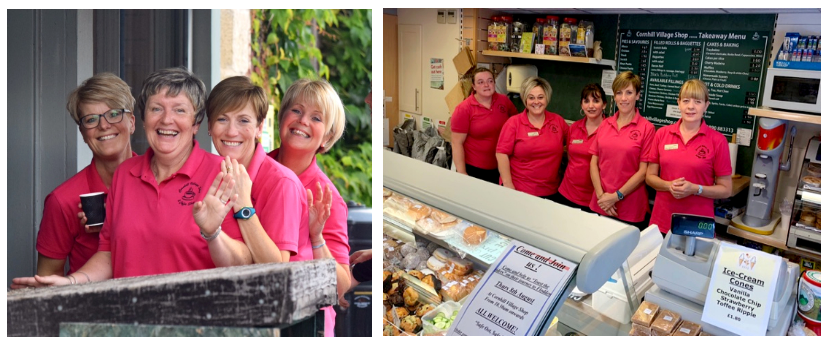 Cornhill and the Coronavirus pandemic of 2020
Cornhill Village Shop has made special provision for the local community
Copies of the flyer below were delivered to every household on 23rd March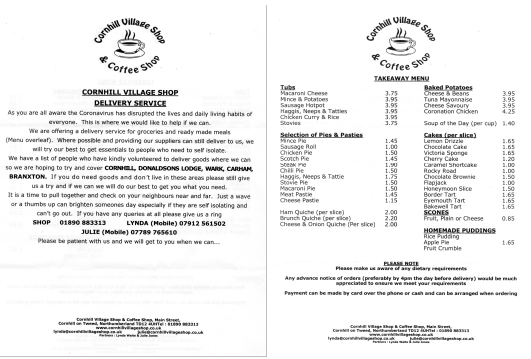 The shop has set up a delivery service and is offering take-away meals.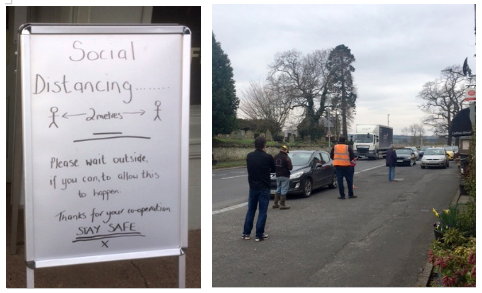 Visitors to the shop obeyed the rules today, 24th March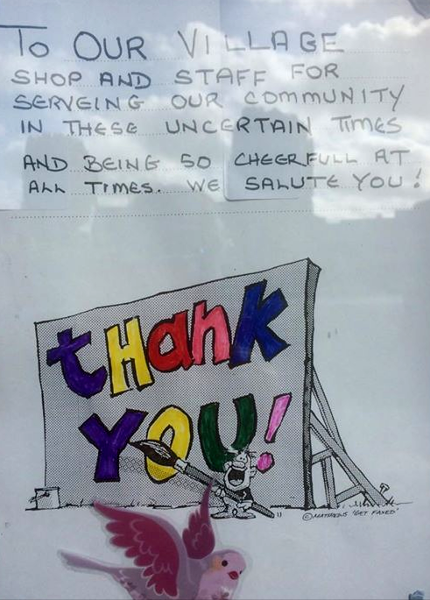 Seen in a window in the village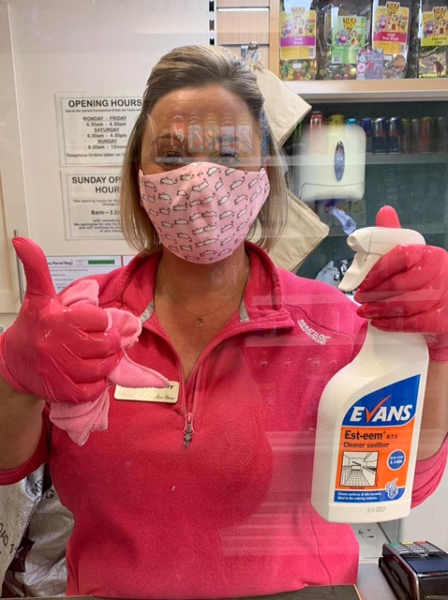 Through the window into the shop
- work as normal (well, nearly)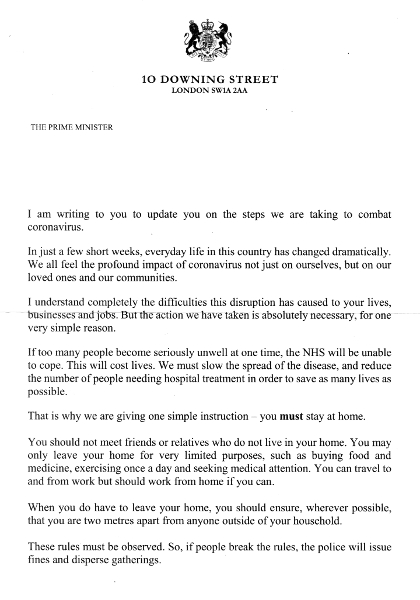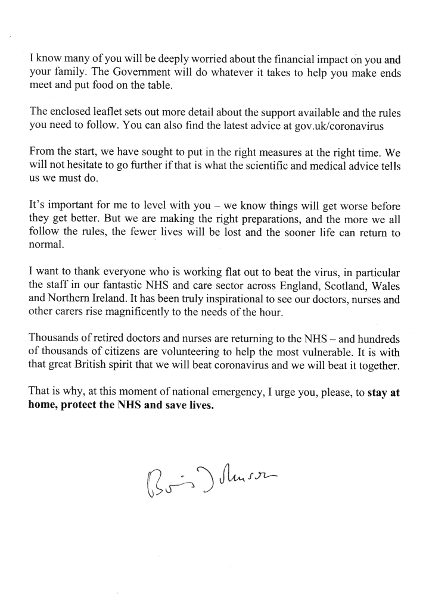 April 2nd - letter from the Prime Minister sent to every household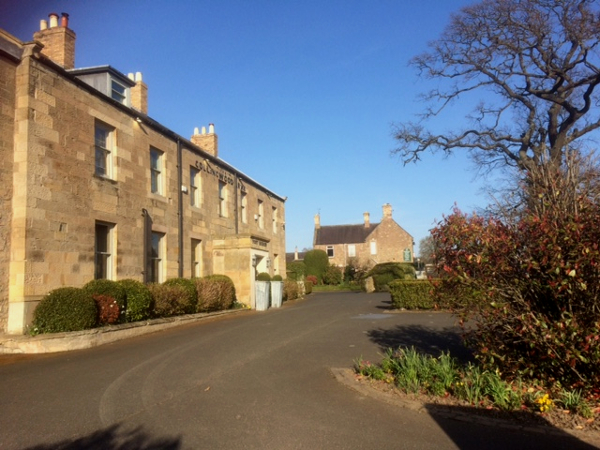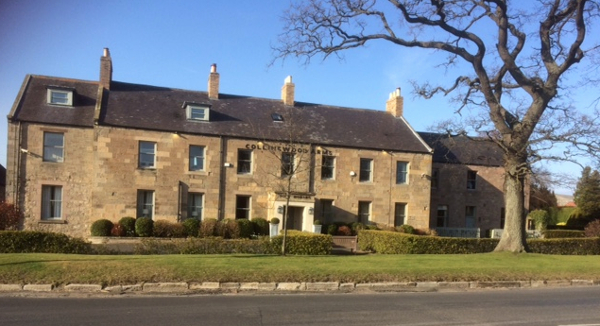 No visitors at the Collingwood - very sad to see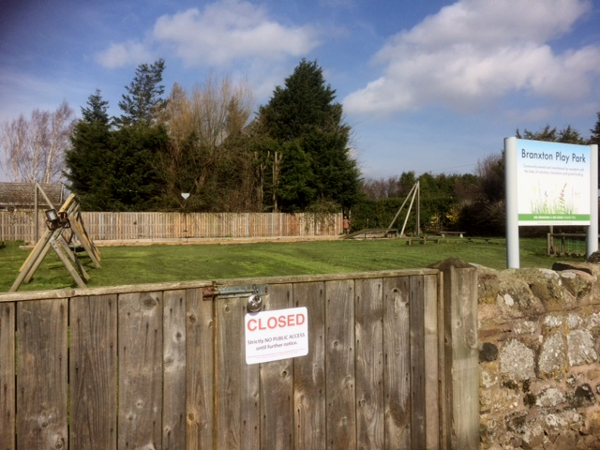 Branxton Play Park closed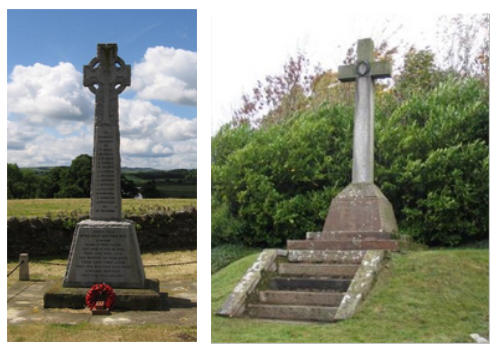 In their war, there was no chance of social distancing or self-isolation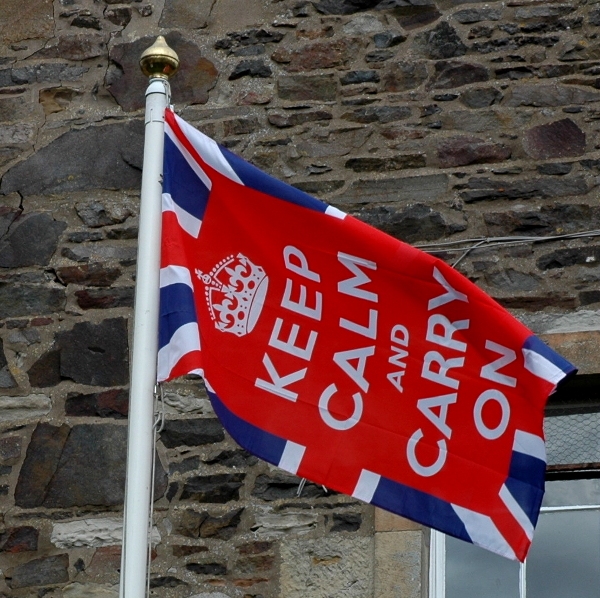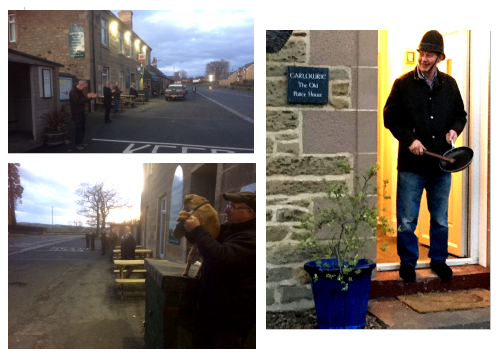 Every Thursday, people in Cornhill are joining others across
the country to clap for the NHS and for all our carers
Many acts of kindness and selflessness in this community
Over the last week or so, there have been many acts of kindness by many people. One example: an elderly person was in trouble with technology and very distressed. Through the village network of people willing to help, a man who knew about these things, gave up his
time one afternoon and sorted it out. Problem solved. You know who you are; thank you!
A poem from Scotland (well, we are quite close), Author unknown
Tae a virus
Twa months ago, we didna ken, 
yer name or ocht aboot ye
But lots of things have changed since then, 
I really must salute ye
Yer spreading rate is quite intense, 
yer feeding like a gannet
Disruption caused, is so immense, 
ye've shaken oor wee planet.
Corona used tae be a beer, 
they garnished it wae limes
But noo it's filled us awe wae fear
These days, are scary times.
Nae shakin hawns, or peckin lips, 
it's whit they awe advise
But scrub them weel, richt tae the tips, 
that's how we'll awe survive
Just stay inside , the hoose, ye bide
Nae sneakin oot for strolls
Just check the lavvy every hoor
And stock-take, your loo rolls
Our holidays have been pit aff
Noo that's the Jet2 patter
Pit oan yer thermals, have a laugh
And paddle 'doon the waater'
Canary isles, no for a while
Nae need for suntan cream
And awe because o this wee bug
We ken tae be..19
The boredom surely will set in,
But have a read, or doodle
Or plan yer menu for the month
Wi 95 pot noodles.
When these run oot, just look about
A change, it would be nice
We've beans and pasta By the ton
and twenty stane o rice.
So dinny think yell wipe us oot
Aye true, a few have died
Bubonic, bird flu, and Tb
They came, they left, they tried
Ye might be gallus noo ma freen
As ye jump fae cup tae cup
But when we get oor vaccine
Yer number will be up.
Lockdown - it's all gone quiet - down on the riverbank
Extract from an article in the Berwick Advertiser, 2nd April, 2020, by Bob Smith
These are indeed strange times. The COVID-19 has really changed life as we know it. Following the UK and Scotland Government statements there are only a limited number of reasons for leaving our houses. These reasons do not include leisure pursuits such as fishing. Consequently, nobody should be doing any fishing of any kind.
All our local still waters, as far as I know, are now closed. Local fishing clubs have closed their river beats to members and even the mighty River Tweed has stopped fishing. It is tough, but these are very tough times, and it does make sense if we are to beat this virus sooner rather than later. Sooner might be a while, but it will be sooner if everybody follows the guidelines.
up to top