Allan - Wilson - Ainslie - Brown - Tait - Richardson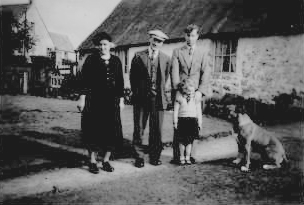 The family is standing in front of Church View cottage which was on the site of the Village Hall - 1950s
left to right - Mrs. Allan, Mr. Allan, their son Adam with Margaret and Max, the boxer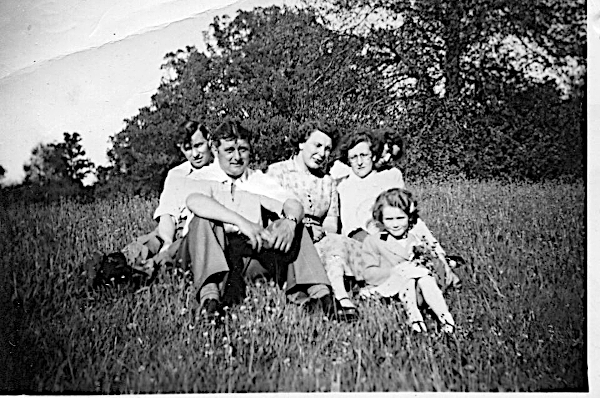 left to right - Adam Allan, Eric Wilson, Nell Wilson (née Mowitt), Jean Ainslie
with Peggy Allan (partly hidden) and Margaret Allan.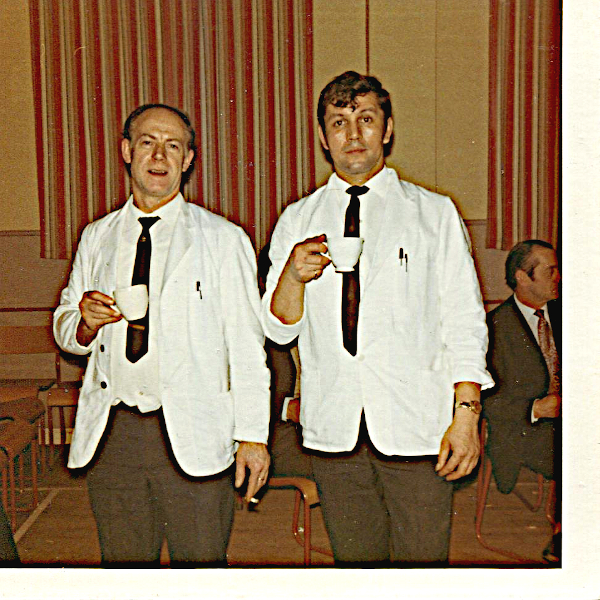 John Brown and Alistair ?. John was barman at the Collingwood for many years.
This was taken in December 1970 at Margaret Allan's 21st birthday celebration in the village hall.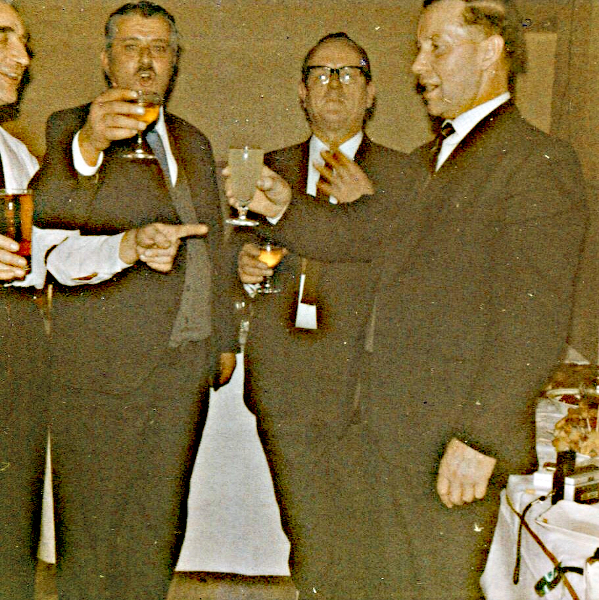 left to right Adam Allan, Tommy Richardson, Eric Wilson, Johnny Tait,
December 1970, same event as above
Beveridge - Wilson - Mitchell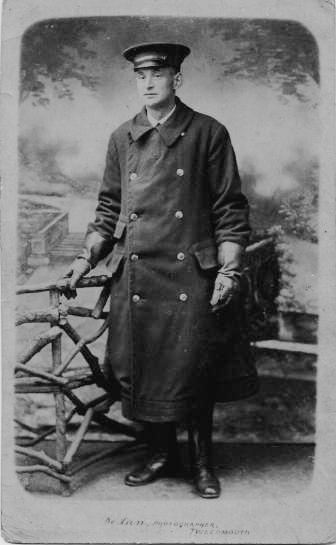 Isaac Beveridge of Front House, in his chauffeur's uniform
The note on the back of this photo:
To Mr. Logan, Cornhill Farm
"I believe first car in Cornhill. No driving test in those days"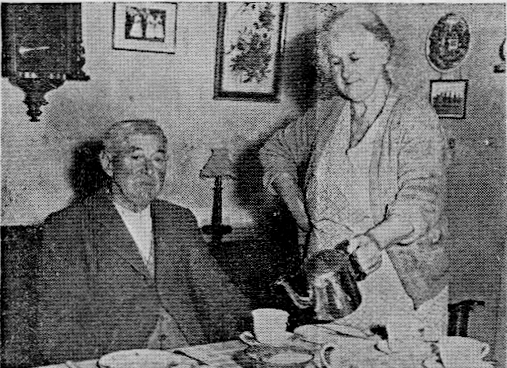 Isaac Beveridge at 80 and his wife.

Isaac had decided to retire after 60 years working on farms. He lived in Cornhill for over 50 years. Originally he was concerned with the breaking and training of horses. As well as farm worker, he was also a groom, chauffeur and handy-man. His main hobby was knitting.
For the last 22 years, he had worked for Mr. J.V. Lindsay of Cornhill Farm, and had also served the previous owner, Mr. R.W. Logan.
Isaac and his wife retired to Burn Cottage, East Learmouth.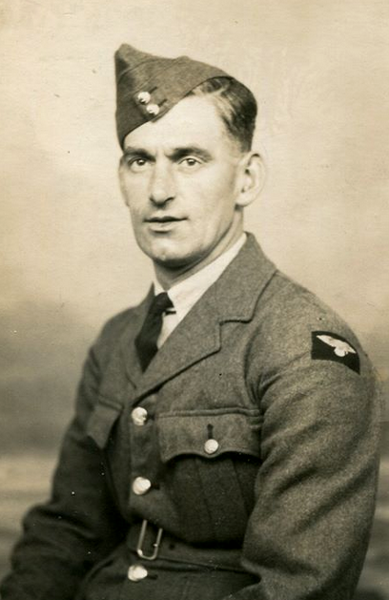 Pim Beveridge, 5th son of Isaac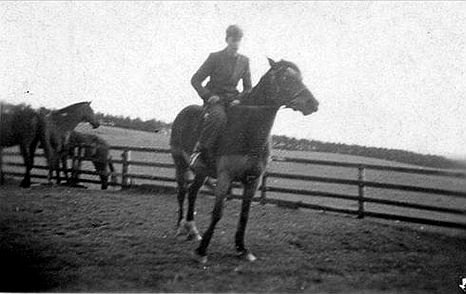 Eric Beveridge on his horse Matchlight. He was groom-gardener at Barelees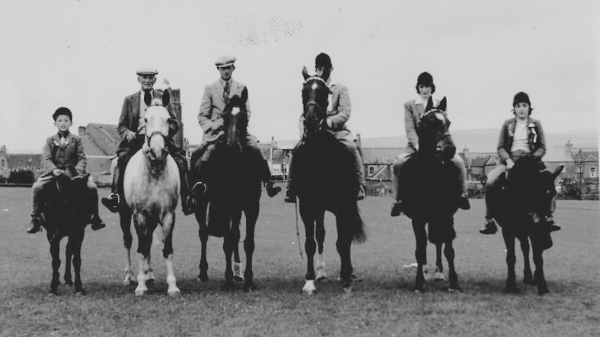 Three generations of Beveridges at the Flodden Ride-out, August 1952
left to right - Tommy White, Isaac Beveridge, Eric, Isaac's son with his children,
Michael and Jean Beveridge, Sheila White (The Whites were cousins)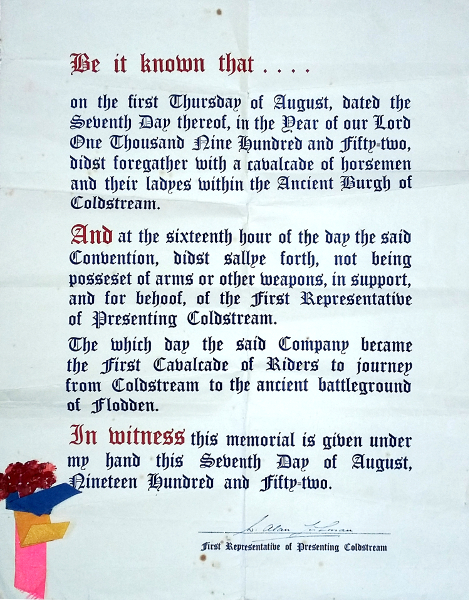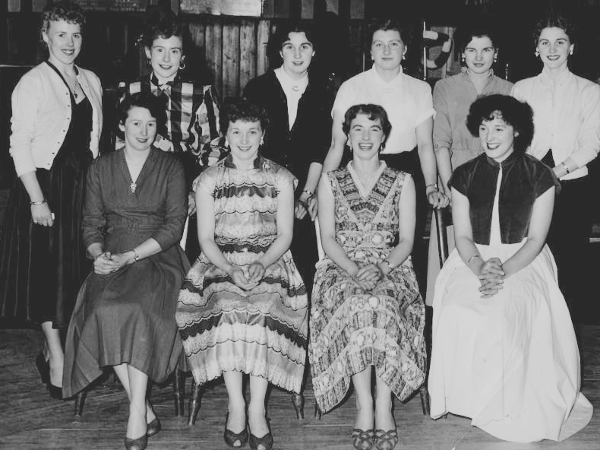 Jean Beveridge, front left, in a heat in Berwick for Miss Scotland - 1950s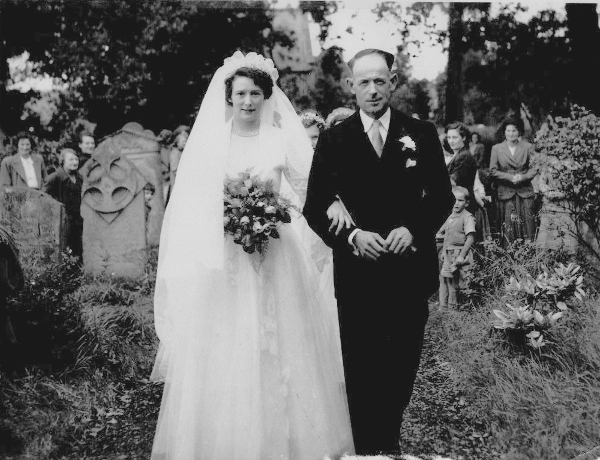 Jean Beveridge and her father Eric, arriving at Cornhill Church, 1953
Jean married Ian Wilson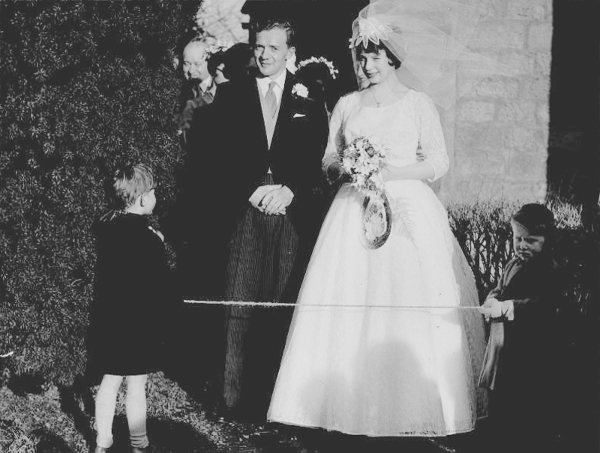 The marriage of Ann Beveridge to Charlie Mitchell, February 1961


Roping the bride: Local children used to gather outside the Church holding a rope across the church gates preventing the bride and groom from passing through the gate until the best man threw pennies to the children. The rope was then lowered to allow the newly married couple to pass and the children collected the pennies, known as 'a scramble'

up to top
Coxon - Moffat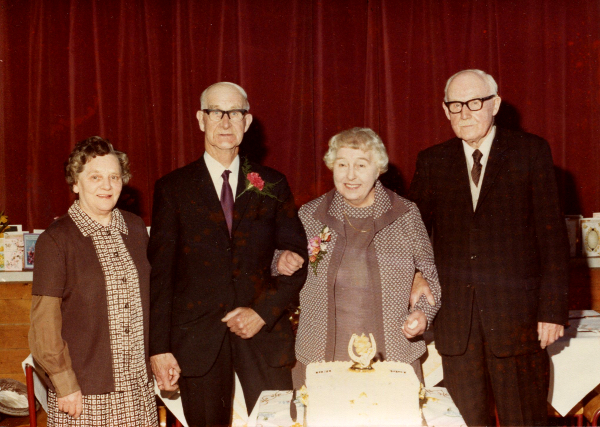 Tom and Meg Coxon's Golden Wedding anniversary, 1981
They were married at Carham, April 4th 1931.
Bridesmaid left - Jen Moffat, Best man right - Jack Coxon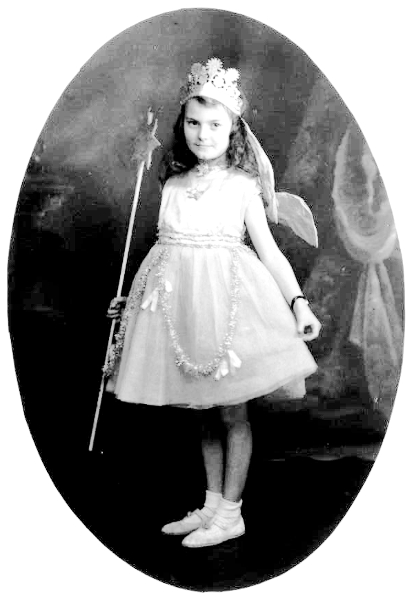 "To Uncle Tom and Auntie Meg
from Dorothy, 8½ years, 1945"