Swan - Renton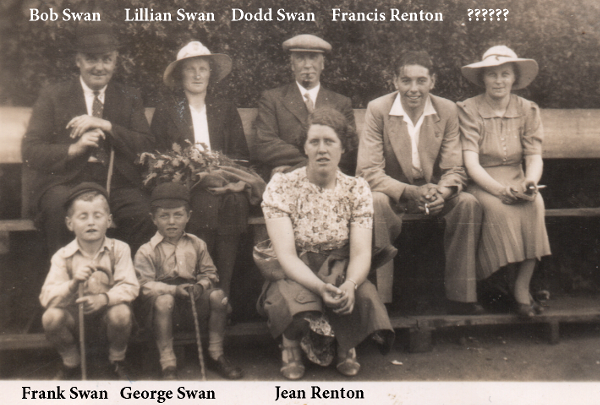 'The Lodgers' in Donaldson's Lodge, 1930s?
Swan - Black - Green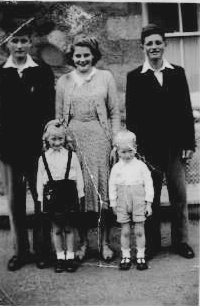 Donaldson's Lodge 1940s
Back row, left to right - Frank Swan, D. Black, George Swan
Front row, left to right - Margaret Green, Jim Green
Thorburn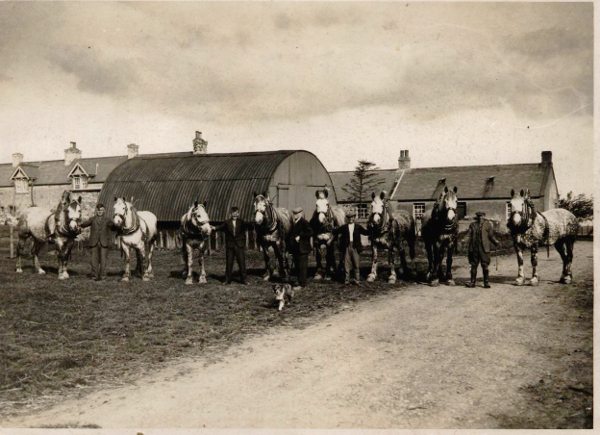 Work horses at Wark Common, 1930s
Mr. Thorburn and his sons Tam, Willie and John
The family also kept stallions for breeding; they were looked after by Joe Anderson
Waite - Simpson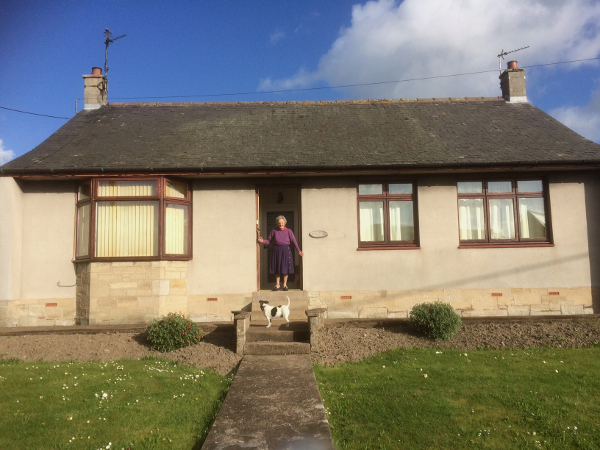 Maimmie outside Sunnyside Cottage in April 2019
Maimmie moved into the cottage in 1965 with her husband Alan and young son Derek.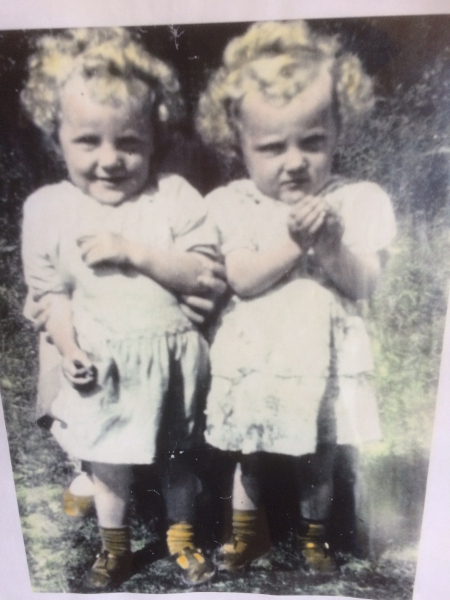 Maimmie and her twin sister Isobel Waite, 1937, at four years old
They were born at Fenton near Wooler and moved to Flodden aged three.
Their parents lived and worked on farms most of their lives.
There were seven girls and one boy in the family; Maimmie is the only surviving member.
She was 86 years old in August 2019.
up to top
Forrest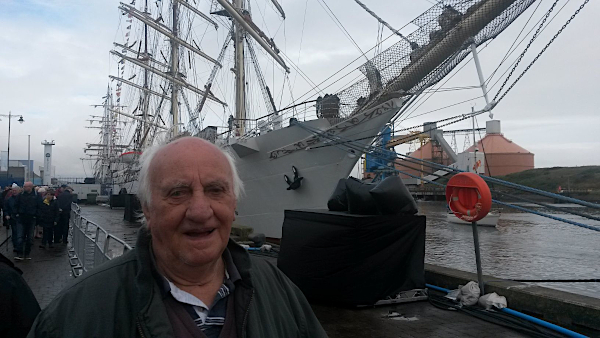 George Forrest at 88 at the tall ships in Blyth
George was born on January 4th, 1933, one of seven siblings. He was evacuated from North Shields by train to Cornhill at the outbreak of the Second World War. He has often told of his bewilderment at leaving his parents behind, gas mask by his side, standing on the platform. Tommy and Marie Carr, of The Elms, who didn't have any children of their own, took him in. Dad has spoken of his first night at The Elms, a confused young boy taken away from his parents lying in a strange bed wondering what was going on and what was going to happen to him. But Tommy, who owned a haulage business, and Marie were good 'foster parents' - not all evacuees were so lucky.
Dad remembers being taken to Cornhill school by Ella Law and regularly attended the village church with Marie. The Headmaster was Mr Cunningham (nicknamed Slybacon). He recalls 'Barn Out Day' when teachers were prevented from attending school by pupils barricading themselves in.
He got up to lots of pranks - including placing buckets over chimneys and watching house occupants come out coughing and spluttering; rolling 40 gallon barrels which collected rainwater from gutters to house doors, slightly tilting them against doors, knocking on the doors, and hiding behind a wall to watch houses getting swamped when the householder opened the door. He also recalls Cornhill and Coldstream youngsters fighting at the bridge.
He remembers pigs being slaughtered in the village and cattle being driven through the village, holding up the traffic. He remembers Tommy Swan owned what was Rutherfords garage.
Captain Collingwood - Colonel Collingwood's father - used to accept whisky as payment for rent from the Collingwood Arms. Lying in his bed, knowing that he didn't have long to live, he told his son, when asked if he had any regrets, that he "wished he had drunk more whisky when it was 12sh 6d a bottle". Two Collingwood estate workers, known as Tommy Do-Little and Davie Do-Less, were told to start work an hour later when they asked for a pay rise.
Dad has lived in Cornhill since 1939 - apart from two years when he returned to Tyneside after the war to finish his secondary education. Leaving school he returned to Cornhill because things were pretty tough in North Shields where the evening meal was often a pile of meat paste sandwiches. He has now (August 2022) lived in Cornhill for 83 years - longer than anyone else.
George worked for Tommy Carr as a lorry driver and did 2 years National Service with the Cameronians (Scottish Rifles) in Malaya. In 1957, only days after I was born in Coldstream hospital, he was seriously injured at Carr's yard when a rim came off a lorry tyre, fracturing his skull and splitting his face open. He was unconscious in hospital for three weeks and couldn't work for 2 years.
Only the previous year he had married Irene Darling, who was born at Wooden Mill, Kelso, photo below. My siblings, Roy and Wendy, were born in 1960 and 1961 respectively.
After being a lorry driver before doing a variety of jobs, including being a poultry farmer, he also worked for more than two decades with the Tweedale press group in the printing department.
George rang the church bells at midnight as the village welcomed in the new millennium in 2000. There was a celebration in the Village Hall at the time.
Derek Forrest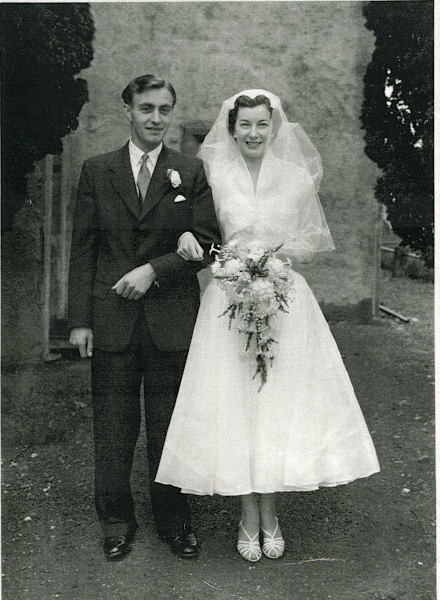 George and Irene Darling, outside Crailing Kirk after their wedding on September 15, 1956.
Irene, born at Wooden Mill on the outskirts of Kelso, was living at East Nisbet, near Crailing, at the time.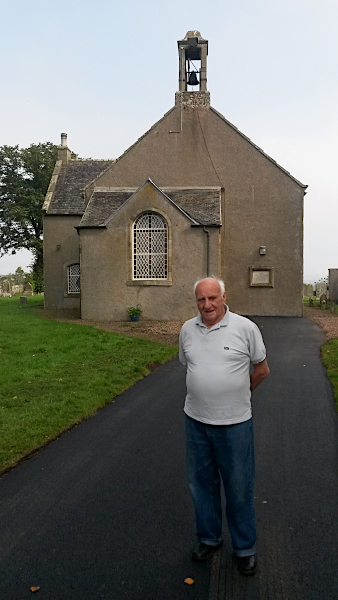 George at Crailing Kirk on the 50th anniversary of his wedding

Perry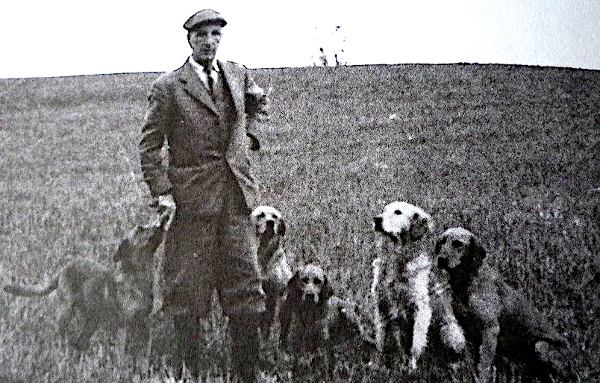 Thomas Fredrick Perry, a gun-dog trainer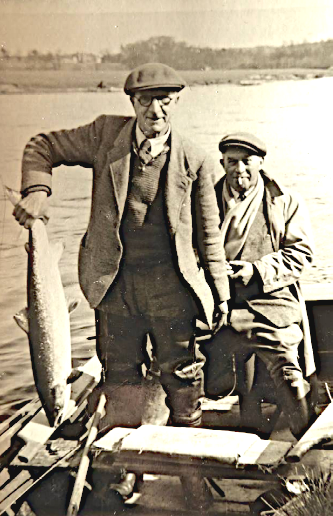 Thomas with a local friend on the Tweed

Thomas Fredrick Perry worked as game-keeper and gun dog trainer for Lord Joicey until around 1948. He was also a salmon fisherman on the Tweed, a bee-keeper and racing pigeon enthusiast He lived in Branxton and with his wife, Leila, he had three children Thomas Leslie (known as Les) and Audrey and Raymond.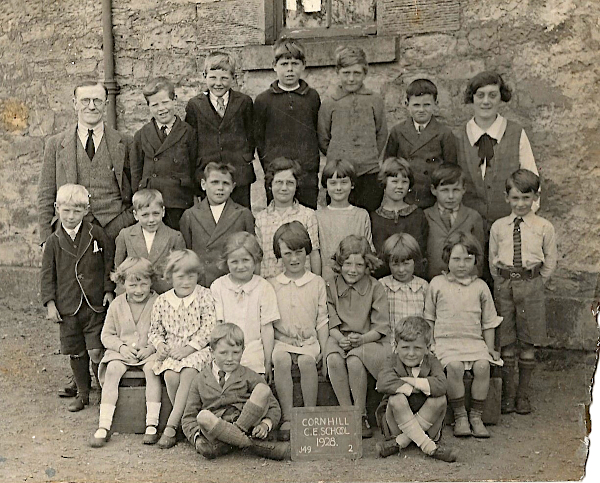 School children in 1928
Les Perry is cross-legged on the front row on the right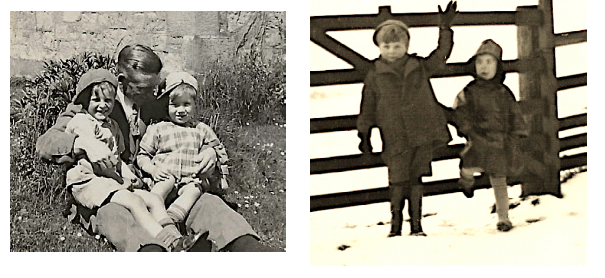 Les and Jock


As a young child, Les lived with his parents at Barelees Cottages. He attended Cornhill School until 1934 and then completed his education at Coldstream School which he left at aged 14 in the summer of 1936. He then became an apprentice at Murray's of Coldstream and cycled every day from Barelees. He completed his apprenticeship and, in about 1940, he found employment at Vickers Armstrong in Newcastle. Here he went into lodgings, travelling home at weekends as often as he could.

Les Perry, 1941/42, radar expert in the RAF

Les joined the RAF in 1941, finally becoming Group Radar Officer at No 3 Group Bomber Command. As a young child, Les had always dabbled in wireless telegraphy. having a trunk full of old wirelesses and spare parts. The old trunk was probably thrown out when the family left the Barelees Estate to move to Branxton in 1946.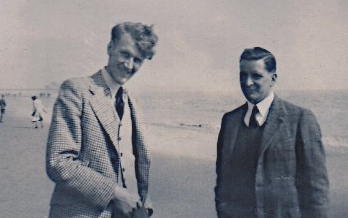 Les and Raymond, between 1946-1948
Les moved to Leicester in 1948 when he married Joyce Robinson; they had five children, Linda, Ann, Georgina, Tom and Scott.
Les' sister, Audrey left Cornhill school two or three years later than Les and found employment a short distance from Murray's at Howden's Chemists Coldstream. (Audrey's married name is Brice).
up to top
Wilson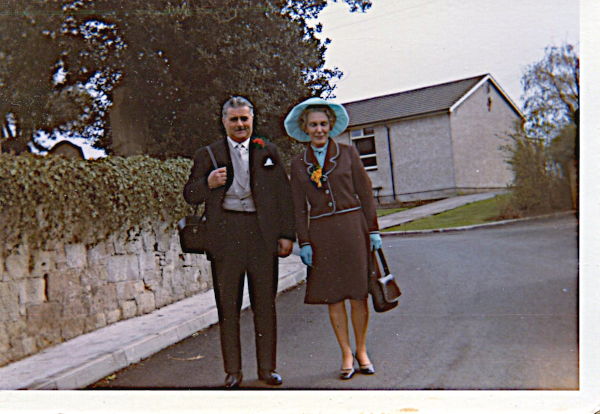 Eric and Nell Wilson (née Mowitt)