School photographs 1930 - 1960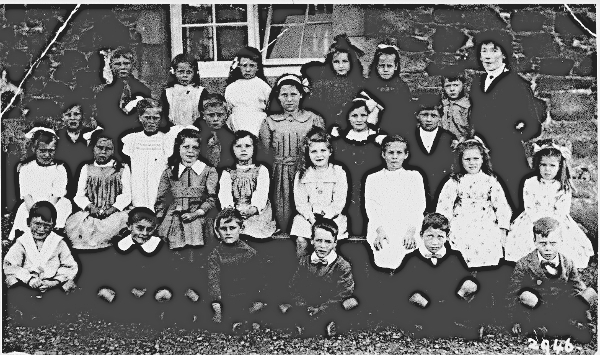 School children in the 1930s
Please let us know if you recognise anyone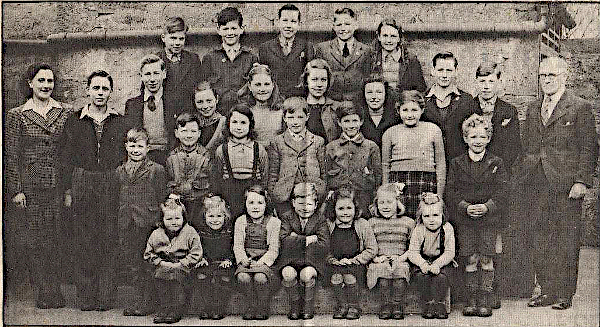 School children in late 1930s, early 1940s?
The popular Mr. J.D. Cunningham was the headmaster for many years; he was also a well-known sportsman,
opening the batting for Coldstream Cricket Club for several seasons.
Back row, left to right - Robert Renton, Frankie Adams, Duncan McQueen, Hylton Moffat, Dot Robson
Second row, left to right - Teacher - Dorothy Thompson, Leslie Turnbull, Alan Simpson, Myrtle Johnston, Sheila Trotter,
Rene Dalton, Ena Nesbit, Alan Ash, B. Renton
Third row, left to right - Chris Renton, Billy Blackie, Joyce Blackie. Brian Moffat, George Nevins,
Anne Kerr, Johnnie Nevins, Headmaster - Mr. J.D. Cunningham
Front row, left to right - Anne Osram, Elma Renton, Joan Dalton, Martin Moffat, Anne Delaney, Linda Ambler, Joan Gallon

Printed in the Berwick Advertiser in 1988
"The picture below recalls the Cornhill School pupils of 1948 - Cornhill is unusual in the context of rural schools for it now caters for a much larger number of pupils than it did in 1948, and they are housed in a comparatively recent building a few hundred yards away from the original school. Today's children come not only from the village but from a wide area around."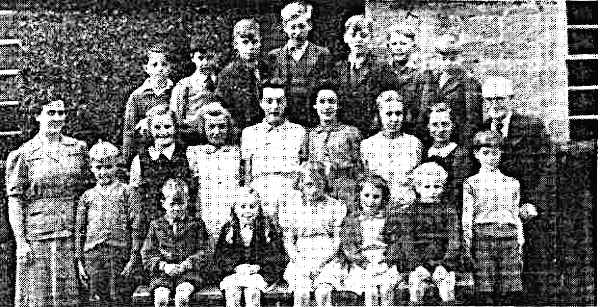 School children in 1948
Back row, left to right - Michael Beveridge, Frank Adams, W. Renton, Alan Simpson, Leslie Turnbull, Hylton Moffat, Robert Renton
Second row, left to right - Sheila Trotter, Ena Nesbit, Sylvia Nesbit, Hazel Fair, Rena Dalton, Myrtle Johnston. Headmaster: Jimmy Cunningham
Front row, left to right - Teacher: Mrs. Dorothy Whittle (née Thompson), Brian Moffat, C. Renton, Linda Ambler, Anne Kerr, Joan Dalton,
J. Nevins, George Nevins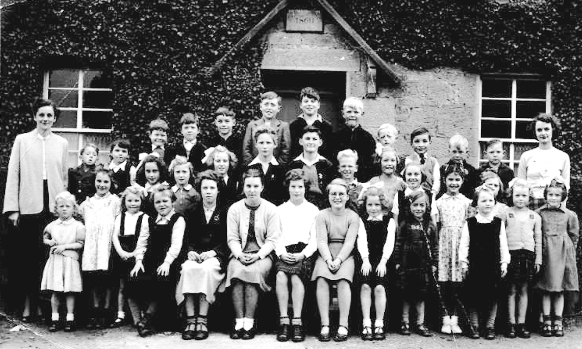 School children around 1955?


School children around 1956?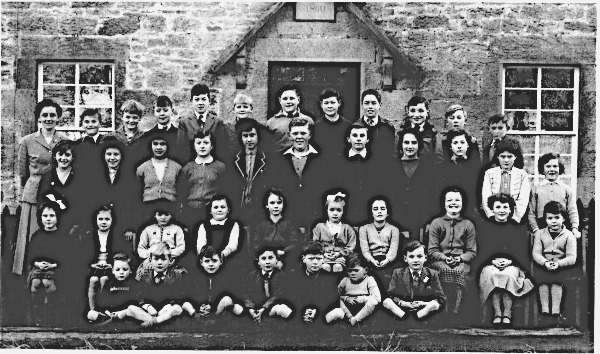 School children in 1957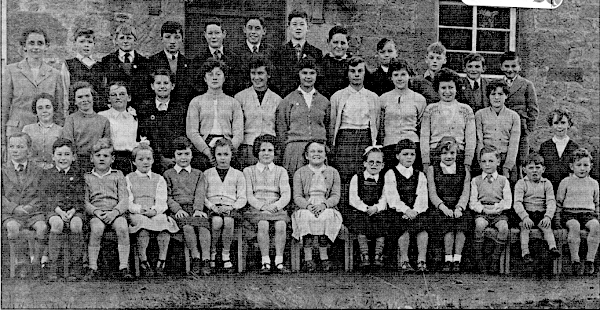 School children 1958
Back row, left to right - teacher: Miss Ruby Larson, John Day, Vincent Moffat, Stuart Tait, John Wilkinson,
John Jeffrey, Billy Tindle, Ian Wightman,?, Angus Maxwell, Alex Tait, Brian Thompson;
Middle row - Maureen Turnbull, Betty Ford, Katrine Maxwell, ?, Lorna Tait, Jean Mowett, Pauline Watters,
Margaret Thompson, Mary Adams, Betty Mowett, Stella Dunn, Margaret Allan;
Front row - Eric Tait, Ian Tindle, David Beveridge, Elspeth Maxwell, Margaret Adams, Maureen Beveridge, Irene Coe,
Helen Wightman, Sheilagh Maxwell, Ailsa Maxwell, Betty Hornsby, Derek McDougall, David Beveridge, Leslie Tait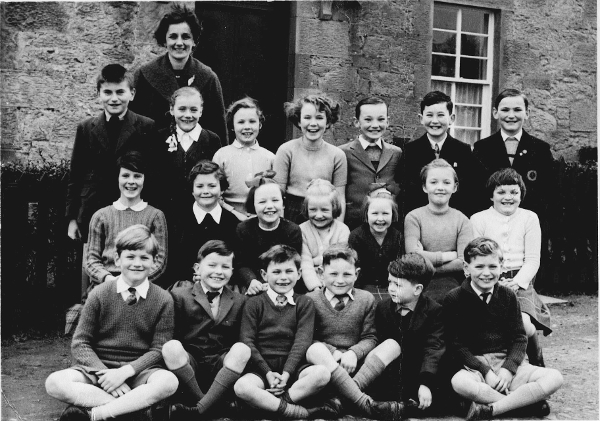 School children with Miss Larsen, late 1950s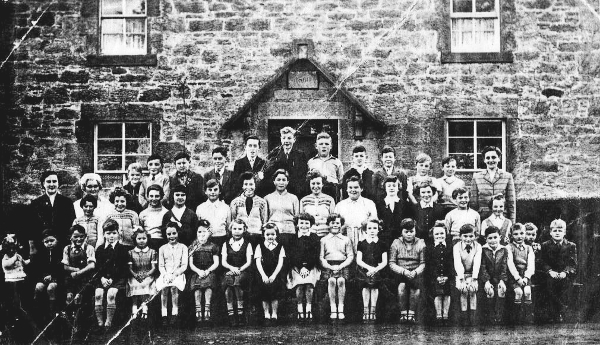 School children - date?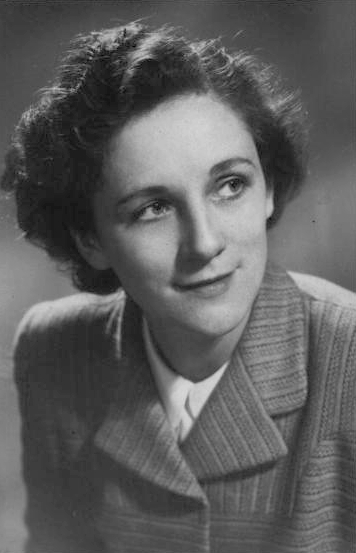 Ruby Larsen, head-mistress of Cornhill First School
Miss Ruby Larsen, Southville, Cornhill-on-Tweed, died on March 16th 1978 at Coldstream Cottage Hospital, aged 57
She was the daughter of the late Robert and Ruby Larsen. Interred Cornhill Churchyard

Ruby Larsen's record of achievement at Cornhill was outstanding, for she produced a number of excellent academic pupils.
It was under her guidance that the move from the old school to the fine, modern building was achieved so smoothly.
She came to Cornhill in August 1953 and for a quarter of a century rendered loyal and devoted service to the village.
She was a teacher at Linskill Secondary School, North Shields before she moved to north Northumberland.
Miss Larsen took an active part in the life of the village. She was a former president of Cornhill Women's Institute, a Parish Councillor, a stalwart of the Church and of the Hall Committee.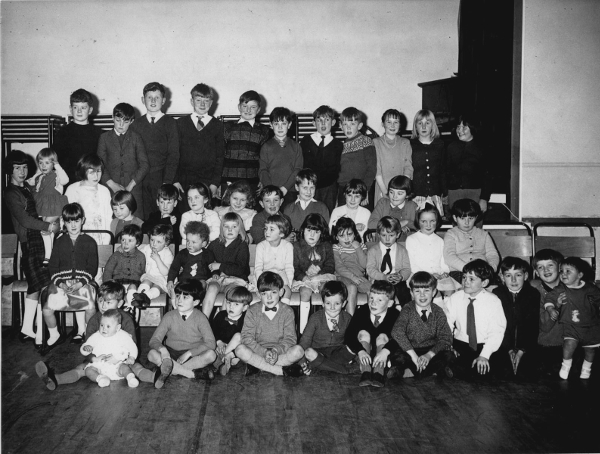 School party 1964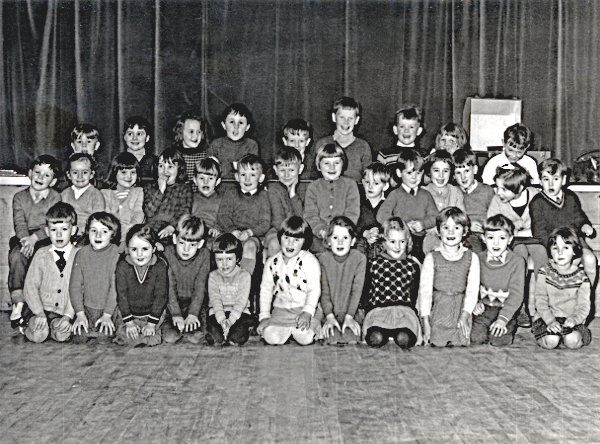 School children 1966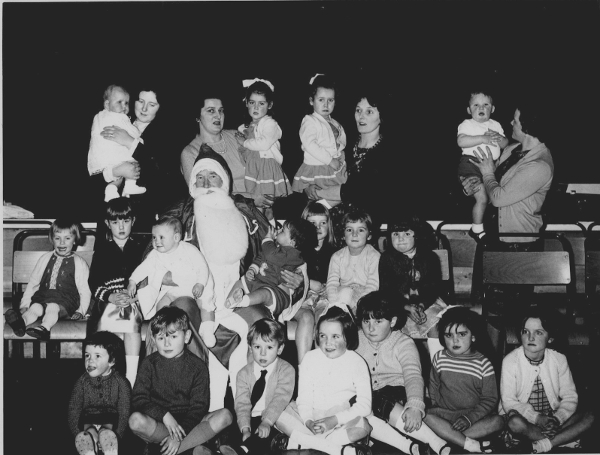 School Christmas party c. 1967?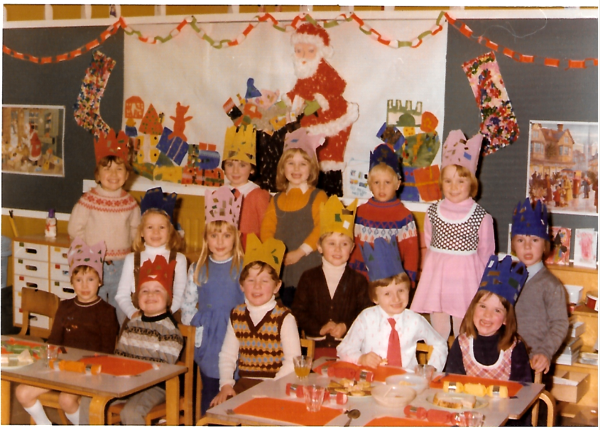 Year 1 1976
back row, left to right - Mark Jordan, Agnes Montieth, Pauline Scott, Nicky Thompson, Louisa Ley
middle row - Johanna Calder, Mandy Robb, James Faill, Glyn Jamieson
front row - Katy Anstis, David Abercrombie, Derek Wood, Craig Dickson, Caroline Scott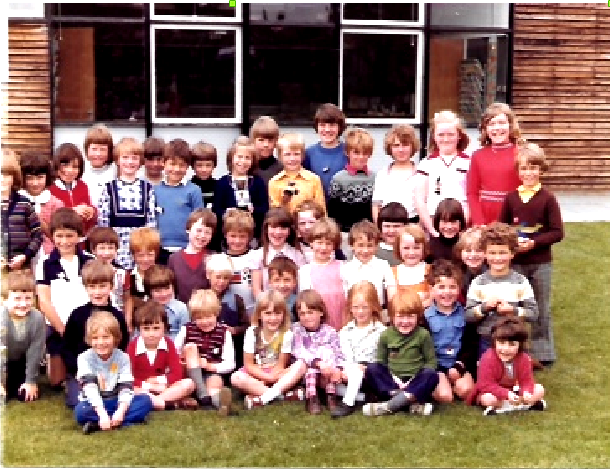 School Sports Day 1978
back row, left to right - ? , ? , Annabel Phipps, ? , Elizabeth Neil, Wendy Woodcock, Mark Jordan, Keith Bickerton,
Julie Anstis, ? , Gary Wood, ? , John Moffat, Susan Thompson, Wendy Gallon, Sarah Johnson. Gary Dunn.
next row - Paul Turnbull, Simon Fraser, Jason Wood, Julian Blake, Hazel Fraser, Caroline Scott, ? ,
Johanna Calder, Katy Anstis, Susan Maxwell, Louisa Ley, ? , Pauline Scott, Gordon Pentland
next row - Craig Dickson, Glyn Jamieson, Kirsty Purves, Nicky Thompson, Mark Jordan
front row - David Abercrombie, Ian Millhouse, Mandy Robb, Christine Lambert, ? , Kerri-Ann ? ,
Graham Scott, John Woodcock, Amanda Turner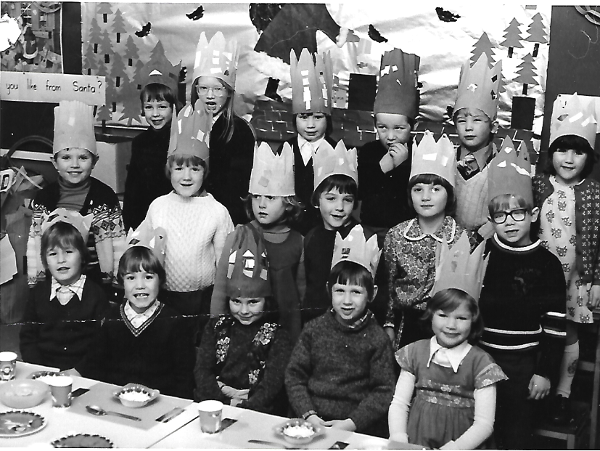 School Christmas Party 1978
back row, left to right - Simon Frazer, Kerri-Ann ?, Amanda ?, John Straughan, Alistair Pentland, Amanda Turner
middle row - John Woodcock, Graham Scott, Tracey Young, ? , Susan Laidlaw, Ian Millhouse
front row - Angus Calder, Steven Dunn, Angela ?, David Robb, Kerry Johnson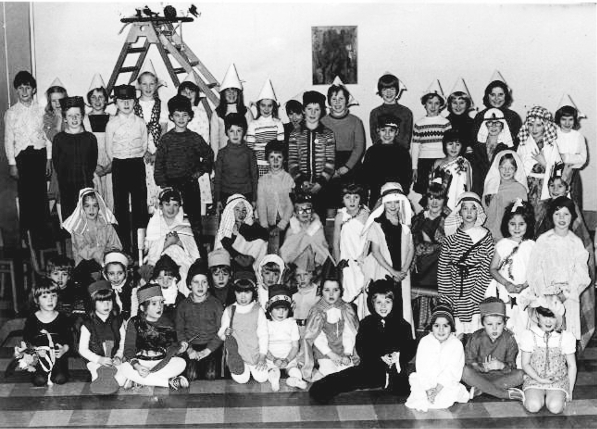 School Christmas play - unknown date, maybe 1979?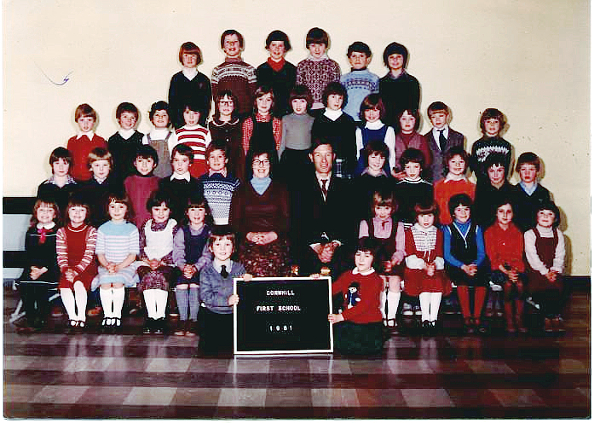 School 1981
back row, left to right - Graham Scott, Glyn Jamieson, Derek Wood, Craig Dickson, John Woodcock, John Pattison
next row, left to right - Nicholas Blake, ? , ? , Agnes Montieth, Christine Lambert, Mandy Robb, Susan Laidlaw,
Katy Anstis, Kerry Johnson, ? Purves, Ian Millhouse, ?
next row, left to right - David Robb, Cameron Logan, Mark Jordan, Stephen Dunn, Angus Calder, Helen Anstis, David Griggs,
Christopher Pattison, Simon Frazer, ? David Abercrombie, John Straughan
front row, left to right -Faye Pattison, Lisa Williams, Melanie Brooke-Sykes, Angela Dyson, Caroline ?, Frank Cormack,
Amanda Turner, Roberta Millhouse , Amanda Logan, Morag Laidlaw, ? , Dawn Abercrombie

Class 1 ready to visit Alnwick Fair, June 1985
back row, left to right - Rose Goodman, Val Bryson, Alison Standing, ? Scott, Kathy Wilkinson, Joyce Woodcock, Liz Maxwell
middle row, left to right - ? Cross, ? , Michael Tait, ? , Annabel Phipps, ? , ? , Nicholas Blake, Anthony ?, ?
front row, left to right - Rebecca Brydon, ? , Emma Young, Wendy Brown, Ricky Fletcher, Louise Goodman, ? , Michael Wilkinson, Mark Woodcock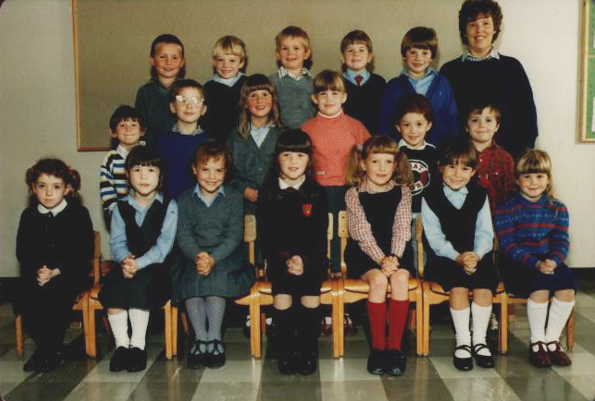 School 1988
back row, left to right - Ian Charlton , Philip Tait, Stuart Turnbull, Oliver Cowgill, Michael Brown
middle row, left to right - Matthew Hodgson, Craig Fletcher, Caroline ?, Samantha Ashton,
Thomas Barber, Alex Douglas
front row, left to right - Ciara Wigham, Elizabeth Curry, Helen Wilkinson, Rachel Plunkett, Laura Bryson,
Katrina Logan, Alison Woodcock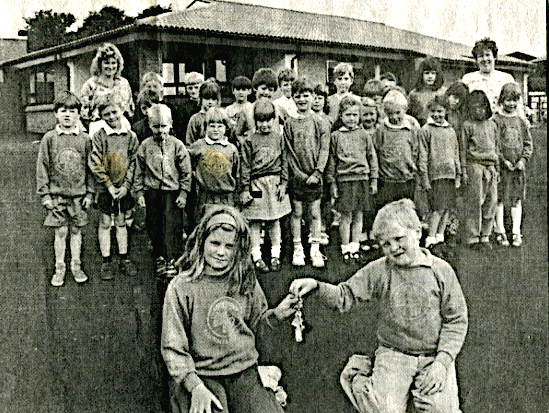 The move into the new school building, July 1993
Oldest pupils Alison Woodcock and Martin Clapham hold the keys to the new Cornhill First School,
watched by Headteacher, Julie Grainger (left), teacher Helen Anstis and fellow pupils.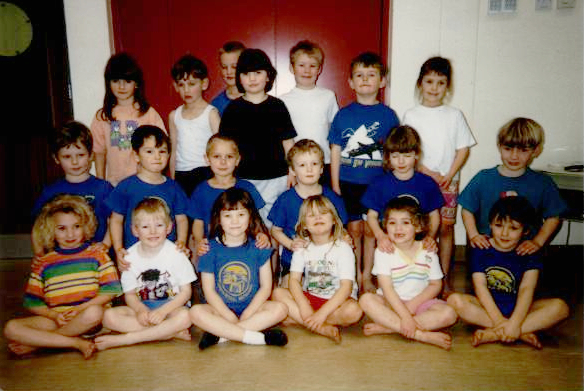 School December 1995
back row, left to right - Nicole ?, Philip Guthrie, Brett ?, Catherine ?, Michael Lumley, James Turnbull, Rebecca Anderson
middle row, left to right -Ben ? , Liam Logan, Claudio Ricard , Callum Reid, Melissa Binney, Nicholas Law
front row, left to right - ? , Aden Mather, Annabel Phipps, Jasmine Reynolds, Cara Wigan, Anthony Jewels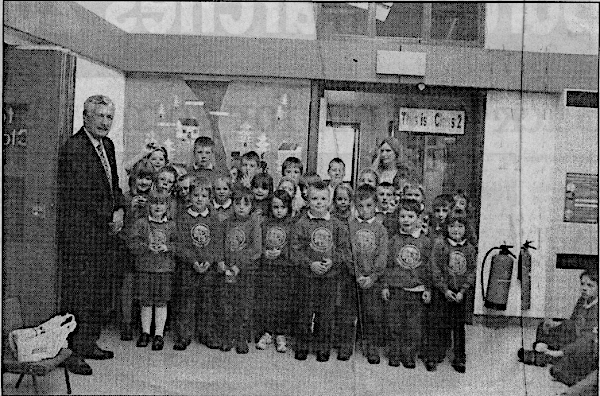 Pupils with Parish Council Chairman, Tony Marshall, May 2003 (Berwick Advertiser)
The Parish Council held a drawing competition to find out what type of play equipment the local children would like to see
in an upgraded play area. The response was excellent. 29 children submitted drawings packed full of wonderful ideas.
Competition Results Age 5 and under - winner: Sean Barrett, runner-up: Matthew Whitty
Age 6 to 7 - winner: Katy Lauder, runner-up: Felicity Warcup
Age 8 to 9 - winner: Jack Robertson, runner-up: Callum Maguire
Age 10 to 13 - winner: Matthew Kelly, runner-up: Callum Palmer
The Parish Council thanked all the children who took part as well as Julie Grainger and her staff at the school.
Cornhill Village Shop, Marie Gillespie, Tony and Jean Marshall and Douglas Zinn donated prizes.
The Parish Council will now submit its grant application for an improved play area.
This is thanks to Berwick Borough Council agreeing to lease the existing play area land to the parish council at a peppercorn rate.

Please contact us if you would like any of these photographs removed from this site