Main Street
Photo c.1906, reproduced with permission from the book 'Old Coldstream and Cornhill' by John Griffiths
published by Stenlake Publishing

From left to right: St. Helen's View with Cornhill Village shop, run by Nicholas Jeffrey
Church View, Carlowrie. The latter used to be the Police House occupied by Constable William Crisp.
The distant cottages, including the former Post Office, managed in 1906 my Miss Ann Reid,
the sub-postmistress, have been replaced by modern bungalows.
The house, middle right, on the east side of the Learmouth-Mindrum road has been demolished.
The Collingwood Arms
The Collingwood Arms takes its name from the local merchant family which owned it up until 1955. There are strong ties with Northumberland's 19th Century naval hero, Vice Admiral Cuthbert Collingwood, who served under Nelson around the time the hotel was built. In fact the hotel's fifteen bedrooms take their names from the 15 ships in Collingwood's division at the Battle of Trafalgar.
In 2007, the Collingwood Arms Hotel received a 21st century makeover. Award-winning architects collaborated with historians and local craftsmen who worked inside and out, to refurbish and re-instate period details, restoring this Grade II Listed Georgian building to its glorious best.
Photos of the Collingwood Arms Hotel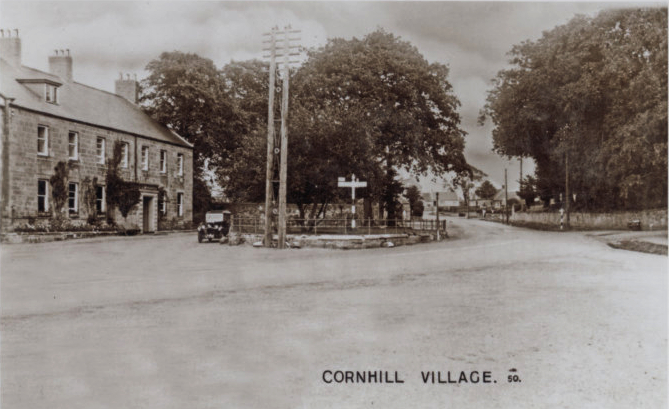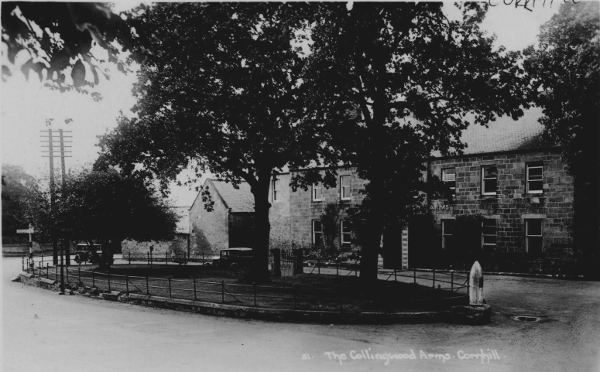 The remains of a WW2 shell can be seen to the right of the roundabout
The railings were removed for the war effort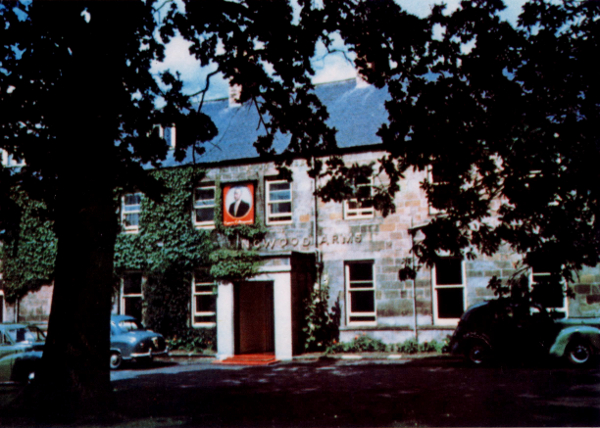 The colourful sign depicts Vice Admiral Cuthbert Collngwood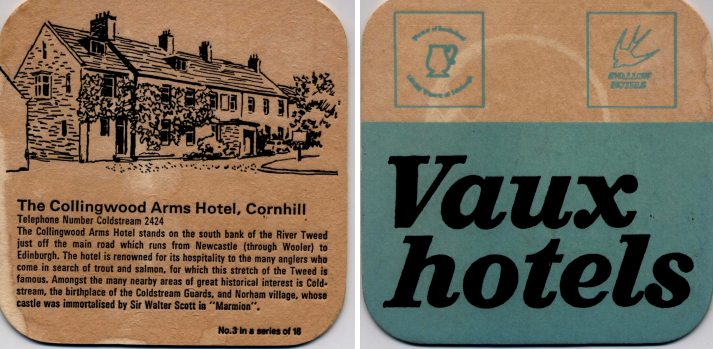 Beer mat - date?
The Village Hall
Research taking place
The Bird Cage
This used to be the working men's club