Beveridge - Wilson - Mitchell
Davidson - Gilroy - Brady
Lough - Speedy - Hope - Gilroy - Nevins
Beveridge - Wilson - Mitchell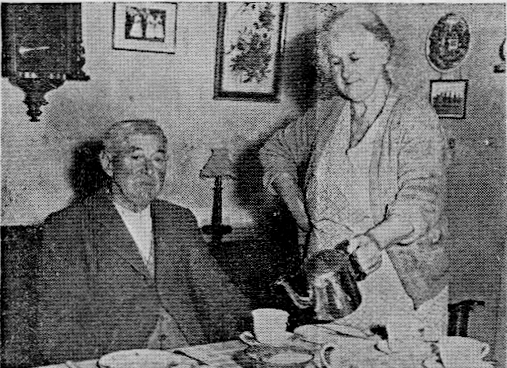 The newspaper photograph above shows Isaac Beveridge at 80 and his wife.


He had decided to retire after 60 years working on farms. He lived in Cornhill for over 50 years. Originally he was concerned with the breaking and training of horses. As well as farm worker, he was also a groom, chauffeur and handy-man. His main hobby was knitting.
For the last 22 years, he had worked for Mr. J.V. Lindsay of Cornhill Farm, and had also served the previous owner, Mr. R.W. Logan.
Isaac and his wife retired to Burn Cottage, East Learmouth.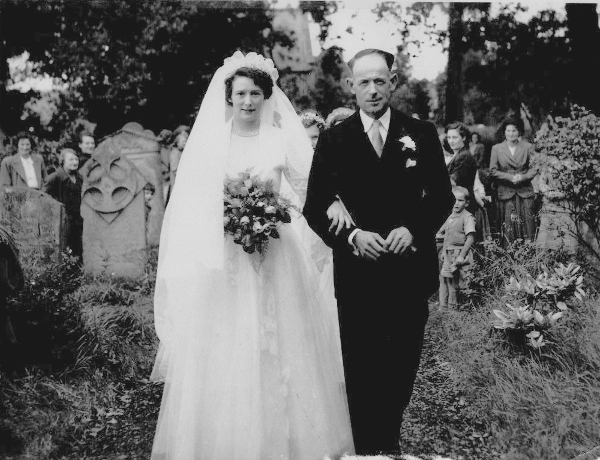 Jean Beveridge and her father Eric, arriving at Cornhill Church, 1953
Jean married Ian Wilson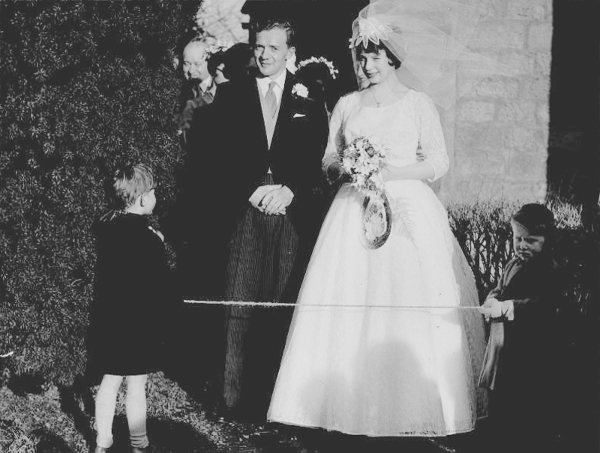 The marriage of Ann Beveridge to Charlie Mitchell, February 1961


Roping the bride: Local children used to gather outside the Church holding a rope across the church gates preventing the bride and groom from passing through the gate until the best man threw pennies to the children. The rope was then lowered to allow the newly married couple to pass and the children collected the pennies, known as 'a scramble'
Davidson - Gilroy - Brady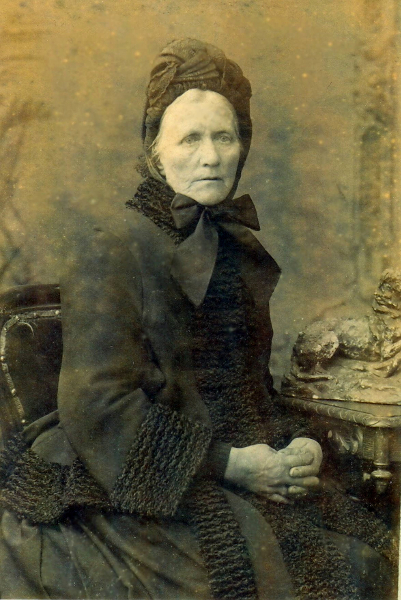 Ann Davidson 1828-1909, who married John Gilroy (no marriage record), son of Martha Brady.
The family lived at New Heaton Farm, Cornhill, in 1841 where her father William Davidson was a farm steward and her older brothers, agricultural labourers. At this time Ann was aged 12 and a scholar; later she may have been a bondager. It is known that Ann was living in Cornhill parish in 1850. Her father William a farm steward all his life, died at Campfield in 1865.
Photo c.1900 or earlier, when Ann was a widow. Reproduced with permission from a family member.
Lough - Speedy - Hope - Gilroy - Nevins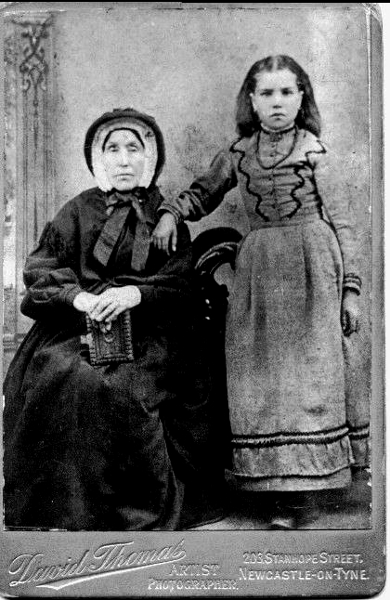 Isabella Lough (left)) c1800-1881, is holding the family Bible. She married Robert Speedy, a farm servant or hind and was probably a bondager in her youth. It is known that, when married, she lived at Campfield and Learmouth but her children were born at Carham
One of her daughters, Jane, who married a William Hope is buried in Cornhill churchyard.
Isabella's father, William Lough came from Coldstream. They were Presbyterians.
The girl in the photo is one of her grandaughters, probably Elizabeth (Bessie) Speedy who was a farm servant living at cottage no. 10 at Carham for a while. Bessie's mother, Mary Nevins married Isabella's son, Thomas. The Nevins family were millers at New Heaton. Four of the Nevins brothers were great sportsmen and competed in the Tillside Games. Their achievements were recorded in the Berwick Advertiser on 9th April 1836.* Mary was the niece of these sporty Nevins brothers.
On the occasion of this photograph, Isabella was in Newcastle visiting another grandaughter, Mary (Speedy) Gilroy, also once a farm servant, but who later migrated to Newcastle with her husband, William Gilroy.
Photo reproduced with permission from a family member.

*The four Nevins brothers competing in the Tillside Games were Thomas, David, Robert and Peter, two of whom, Robert and Thomas, excelled winning many prizes. Some of the other prizewinners mentioned were Cornhill men - William Brady, Francis Brown, John Gillie and John Moffat, the latter two, both tailors.