History, development, population
CMS Sowers' Band 1909
Cornhill Summer Fairs, 1950s to 2019
Coronation of Queen Elizabeth II, 1953
Women's Institute
Village Hall (Buildings page)
Coldstream Cottage Hospital
Youth Club 1970
Brownies 1970s
Stage Coach '72 First Night Ball
Flower Show
Social events
Jubilee Celebrations - Silver and Diamond
Stone of Destiny, 1996
Cornhill Shop 2019
Adult education
Border Links
Coronavirus pandemic 2020
An account of the history, development and population of Cornhill has been written by Dr. Keith Bailey and can be found on the
Cornhill Village website
CMS (Church Missionary Society) Sowers' Band, April 1909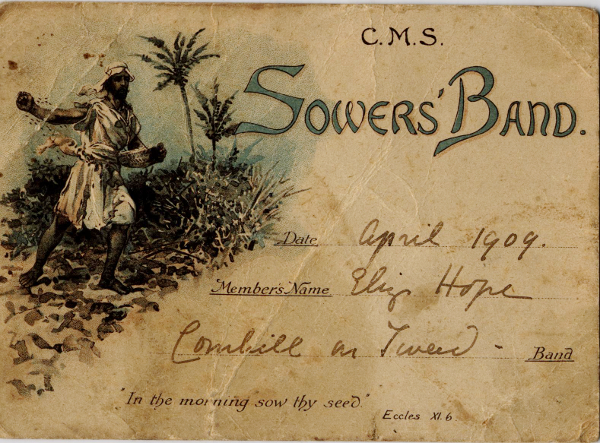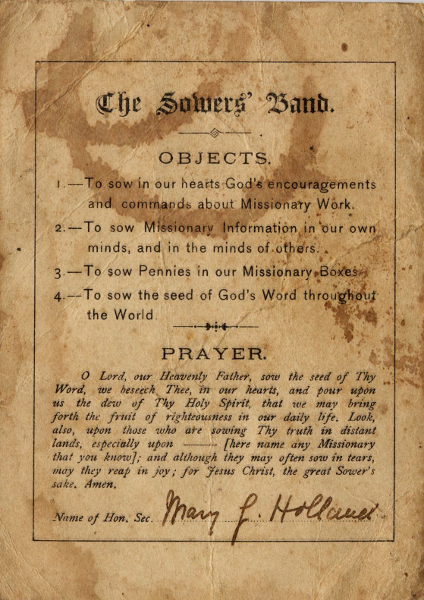 Mary Holland was the wife of the Rector, Canon Holland
Cornhill Summer Fairs, 1950s to 2019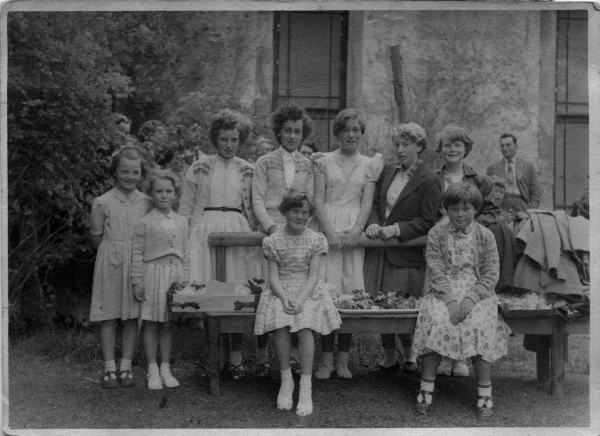 Cornhill House Summer Fête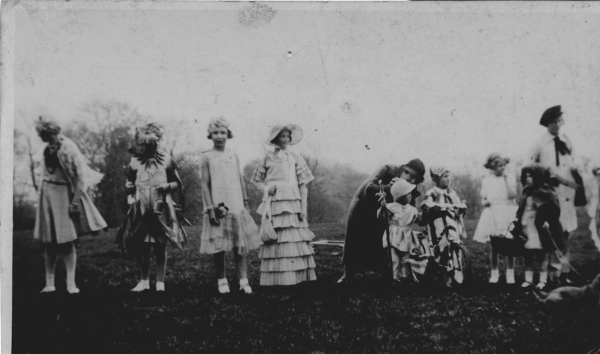 Cornhill House Summer Fête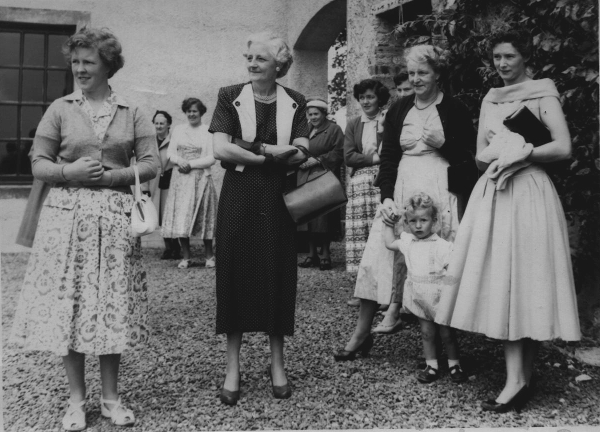 Church Garden Fête 1961
left to right: Betty Mitchell, Doris Wilson, Florence Beveridge, Garry Wilson (aged 3 or 4), Jean Wilson,


"He had a big gallery at Cornhill Fête
Albert Gallon, Cornhill, had a gallery of his chums when he 'had a go' at one of the sideshows
which were popular at Cornhill garden fête on Saturday" (from a newspaper)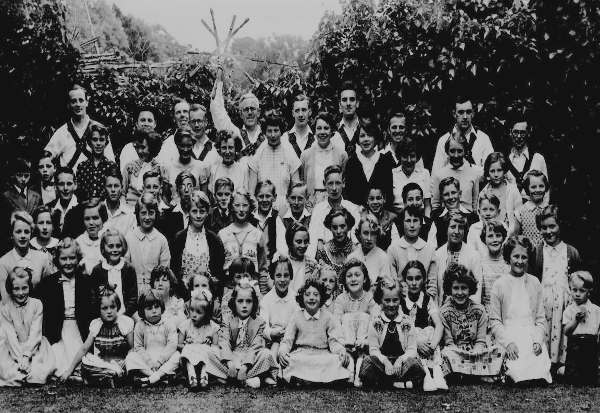 Garden Fête 1955, Cornhill House
Back row - Morris dancers
Second to back row (girls) - Emily Brown. Jean Mowitt, Pat Curry, Ella Mowitt, Ann Beveridge,
Mary Mowat, Mary McRae, Mary Clark, ? Heatly, Mary Adams, Katrine ?
Third to back row (boys) - Michael Evans, Eddie Evans, Les Martin, Tom Ford, Ian Wood, Billy Clark, ? ,
Cyril Martin, Dunc Martin, Billy Meikle, Les Evans, Willie Graham, Martin Moffat, Jim Green?
Third row from the front (girls) - Kathleen Brown, Fiona ?, ? , Wilma Findly, ? , Margaret Wight, E. Jeffry,
Margaret Green, Viv Swan, Nancy Renton, Joan Ford, ? Brown
Second row from the front - Irene Coe, Olwen Dodd, Jennifer ?, ? , Betty Ford, Margaret Allen, Margaret Curry,
Janet Wightman, M. Younger, Lorna Tait, Kathleen Baptie, Betty Mowitt, ? , Ronnie Green?
Front (girls) - Ailsa ?, ? , Elspeth ?, ? , Barbara Younger, Gillian Jeffrey
Children from Cornhill, Tillmouth, Kilham, Mindrum and possibly Wark schools

Summer Fair, 2019
Coronation of Queen Elizabeth II, 1953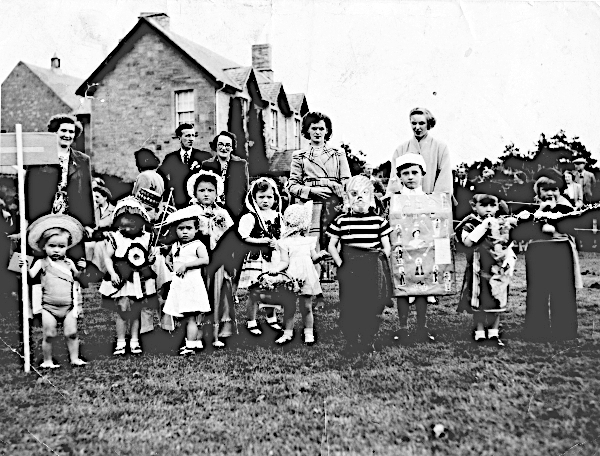 Women's Institute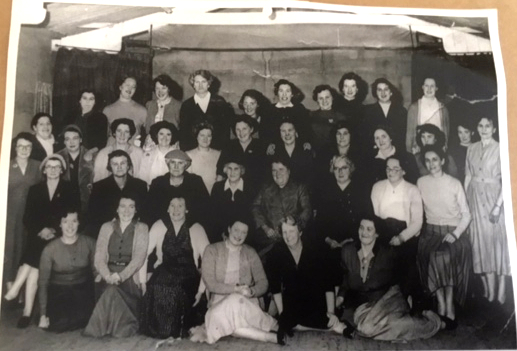 1950s ??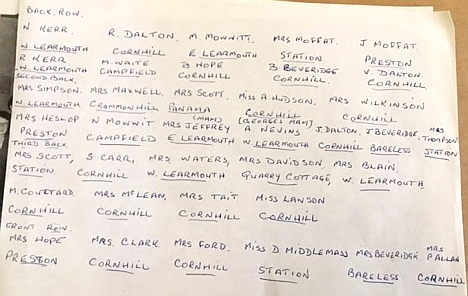 W.I. names of members in the photo above
Offers to transcribe these would be appreciated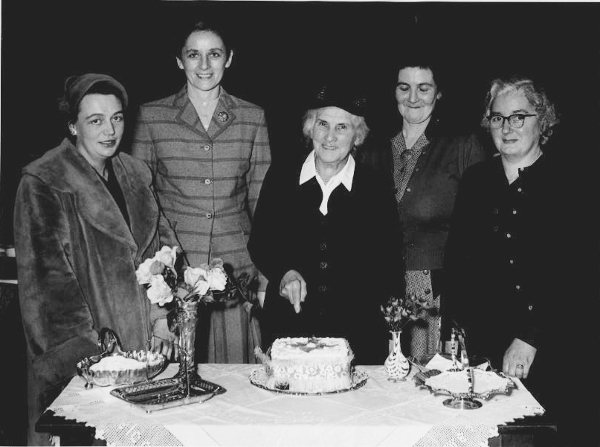 December 1956
From left to right - Mrs. Maxwell from Cramond Hill, Miss Larsen (teacher), ?, Peggy Allan, Mrs. McLean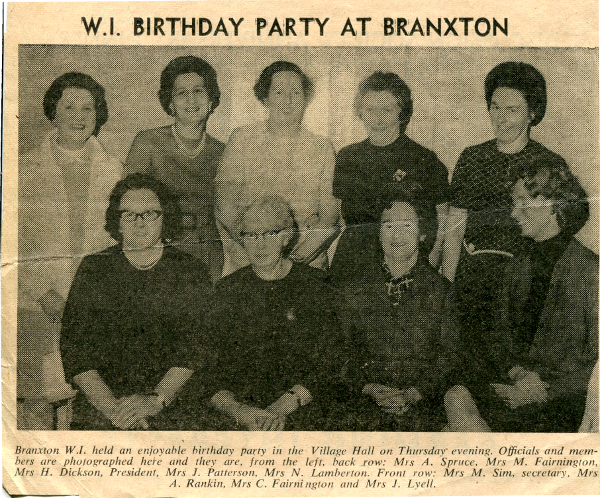 Date please
Coldstream Cottage Hospital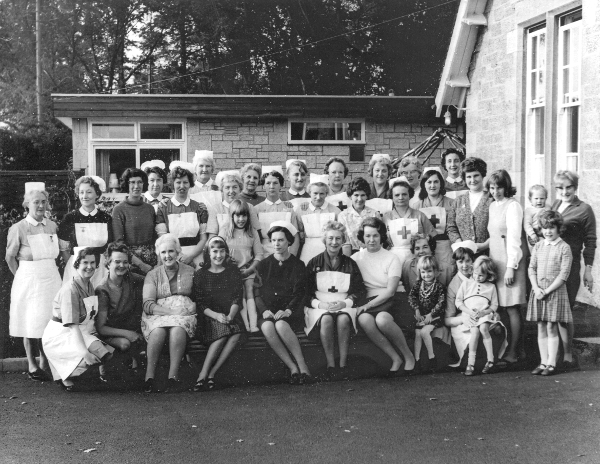 Staff at Coldstream Cottage Hospital with staff at the Red Cross, 1967
Youth Club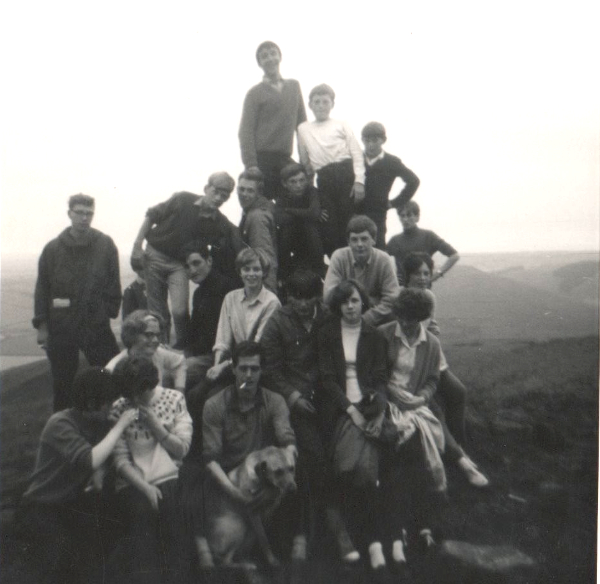 Youth Club in 1970
- names please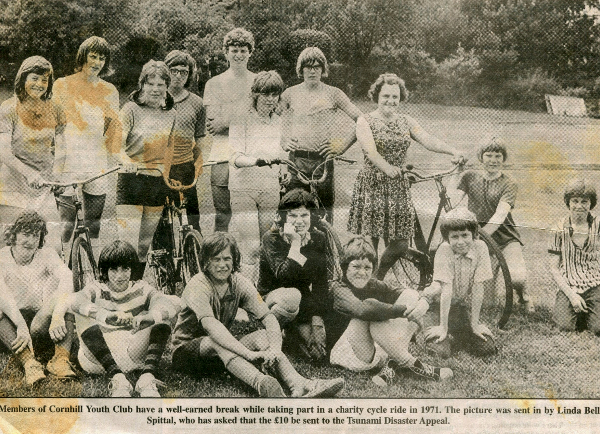 Youth Club on charity cycle ride in 1971 - names please
Brownies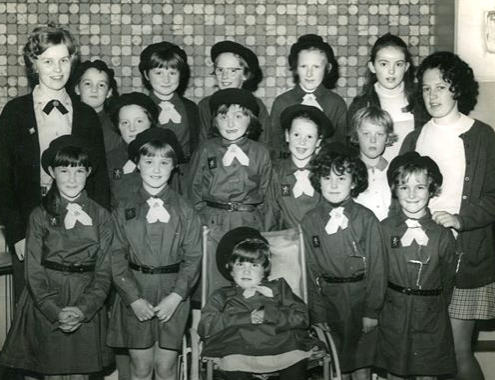 Brownies in 1970s
- names please
Stage Coach '72 First Night Ball
This event was organised by the Coldstream Cornhill Committee
with the City of Edinburgh Lions Club on 3rd June 1972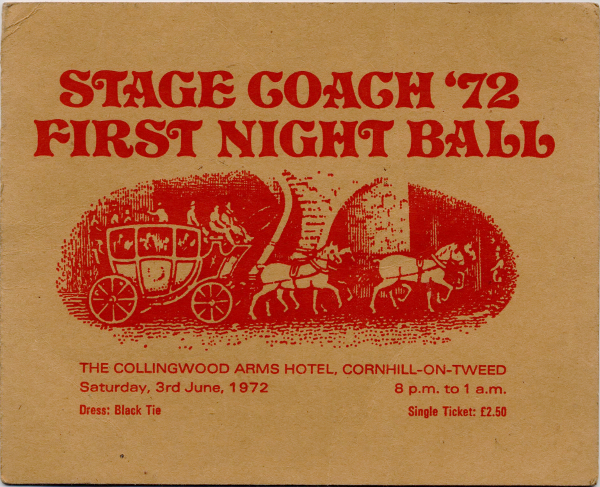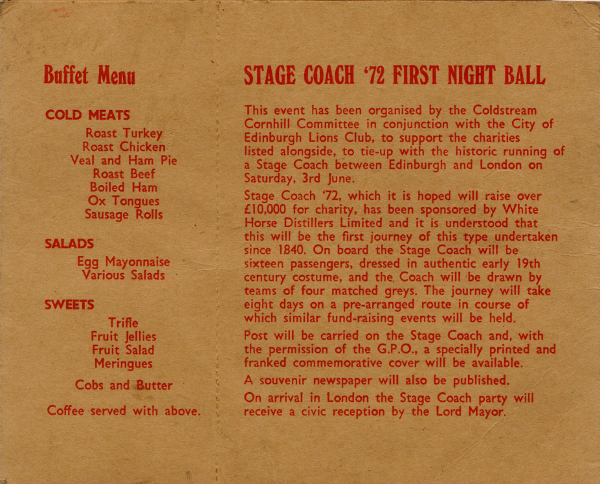 Flower Show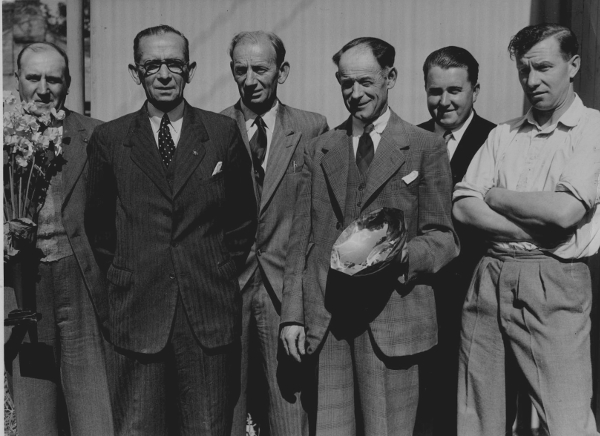 Flower show, 1960s
left to right - Mr. Dalton senior, Judge, Judge, Eric Beveridge (with salver), Mr. Dalton junior, Adam Allan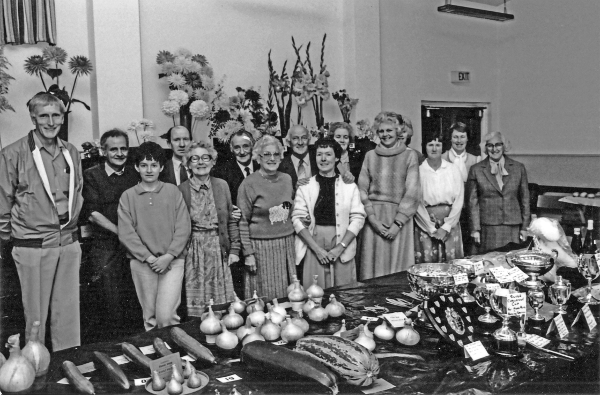 Flower show 1986 ©Tweeddale Press
Back row, left to right - John Smith (judge), Duncan Ferguson, Adam Allan, Tommy Arnott (judge), Davy Clark, Peggy Allfin, unsure, Netta Wood.
Front row, left to right - Barbara ?, Nancy Clark, Nora Tait, Jenny Hope, Mrs. M. Pyle (judge), Mary Black, Mrs. McLean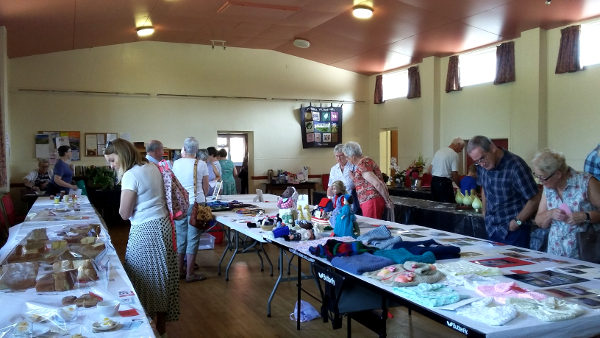 Flower show 2019
Social events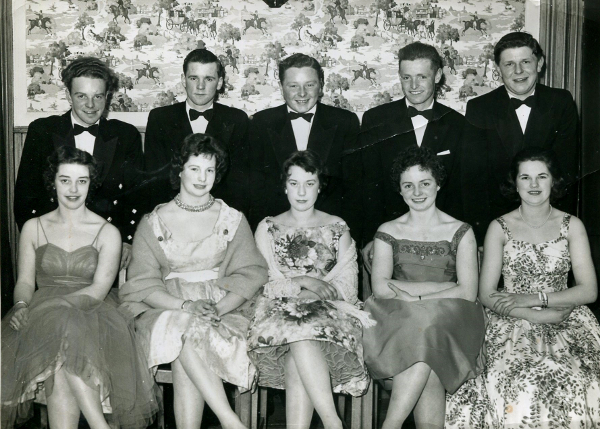 Farmers' dinner, 1959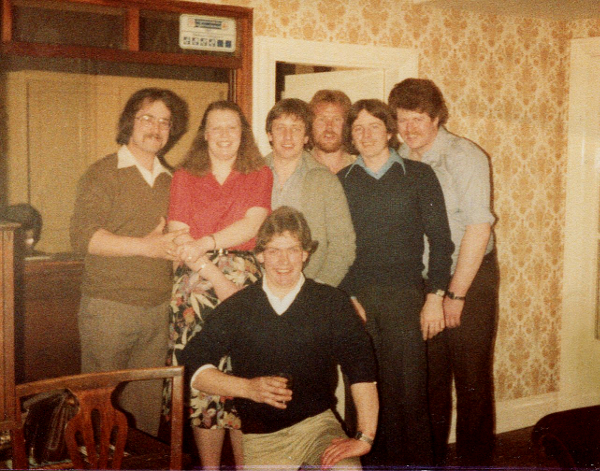 Cornhill Social Club, 1980s
up to top
Silver Jubilee Celebrations 1977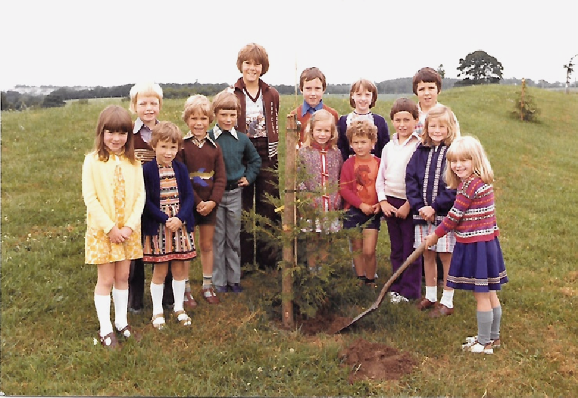 Tree planting
back row, left to right - Gary Wood, Timmy Court, ? , Gordon Pentland, ?
front row, left to right - Caroline Scott, Katy Anstis, Gary Dunn, Keith Bickerton,
Johanna Calder, Tony Culbertson, Paul Turnbull, Karen Calder, Pauline Scott
Diamond Jubilee Celebrations 2012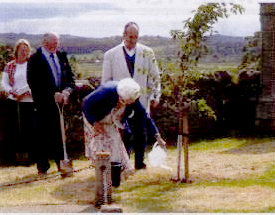 Tree planting at the War Memorial
left to right - Lynda Waite, Bob Clapham, Jean Marshall, William Carrington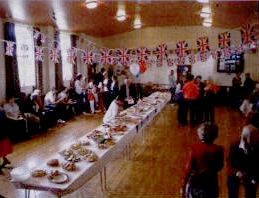 Celebration tea in the Village Hall


As reported in Cornhill Village Newsletter July 2012
To celebrate the Jubilee, two trees were planted at the War Memorial by Jean Marshall and Bob Clapham and a commemorative plaque erected. These were donated by the Parish Council. The Rev. Linda Gardham blessed them.
A celebration tea was then held in the village hall with music provided by Mr. Whittle. George Forrest toasted the Queen and a good time was had by all.People enjoyed face painting, dancing, eating and chatting.
The cake competiion was won by Rebecca and the crown-making competition was won by Alex Rutherford. Thanks to Edna Jeffrey, Mary Black and everyone else who helped to make it a fantastic afternoon of fun.

up to top
Stone of Destiny or Stone of Scone passed through Cornhill

The original stone was an oblong block of red sandstone that has been used for centuries in the coronation of the monarchs of Scotland. Historically, the stone was kept at the now-ruined Scone Abbey in Scone, near Perth, Scotland.
In 1296, the stone was taken by Edward I as spoils of war and removed to Westminster Abbey, where it was fitted into a wooden chair, known as King Edward's Chair, on which most subsequent sovereigns have been crowned.
On Christmas Day 1950, some Scottish students removed the stone from Westminster Abbey for return to Scotland. Eventually it was left on the altar Arbroath Abbey on 11 April 1951, in the safekeeping of the Church of Scotland. However, four months later, the stone was returned to Westminster. Afterwards, rumours circulated that copies had been made of the stone, and that the returned stone was not the original. Certainly the replica shown in the photo below is not made of red sandstone but grey sandstone.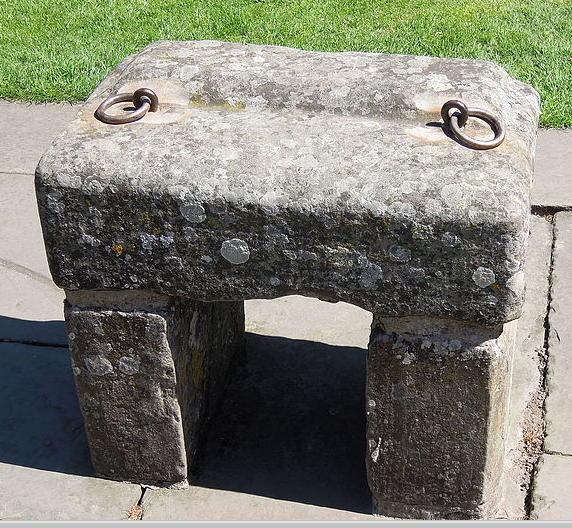 Replica of the Stone of Scone, Scone Palace, Scotland
Aaron Bradley from Vancouver, Canada
CC BY-SA (https://creativecommons.org/licenses/by-sa/2.0)


On 3rd July 1996, it was agreed in Parliament that the Stone of Destiny be returned to Scotland. On 15th November 1996, it was returned. It passed through Cornhill and was handed over to Scotland in Coldstream. On 30th November 1996, it was finally taken to Edinburgh Castle for safe-keeping.

up to top
Cornhill Shop
Reported in the Berwick Advertiser, 23rd May 2019.
Cornhill Village Shop, Café and Post Office was among the regional winners in the 2019 Countryside Alliance Awards
Lynda Waite and Julie Jones, owners of Cornhill Village Shop thanked the Countryside Alliance for this amazing award and they looked forward to meeting all the other finalists in the House of Lords in London in June. They also thanked their amazing staff without whom they would not have been able to achieve such an accolade, and also thanked their wonderful customers.
The awards, known as the Rural Oscars are the Countryside Alliance's annual celebration of rural produce, skills, enterprise and heritage through our small, hard-working businesses. The judges said, "This family-run business is focussed on serving this remote rural community with great local produce, a warm welcome for all and a most caring regard for the elderly. Big supporters of community events and keen fund-raisers for Macmillan Cancer, raising over £100,000, they are the hub of this community and are what a great village shop is all about."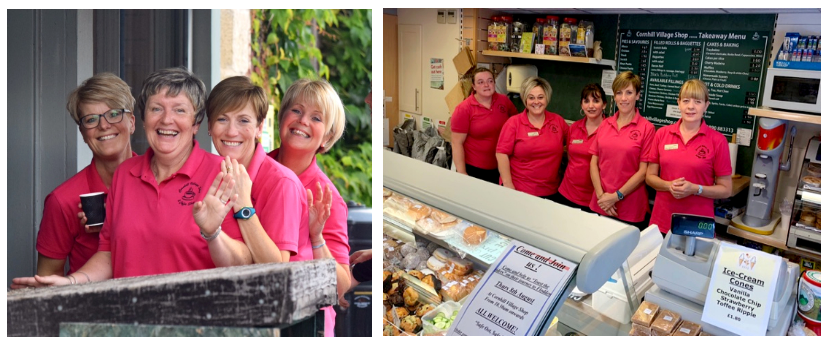 up to top
Adult education
Adult education, or Life-long learning is nothing new.
Printed in the Berwick Advertiser, on 23rd December 1993 under the heading 100 years ago
"In 1893, through the Reverend. W.L. Holland, rector of Cornhill, who has ever the interest of the people of the parish at heart, an Evening Continuation School has been commenced at Cornhill School. Thirty young men have already availed themselves of the opportunities given to continue their education and equip themselves better for the battle of life."

up to top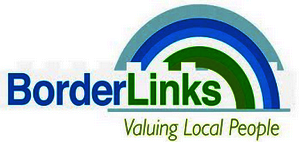 Border Links Ltd. is a community enterprise company. The enterprise was founded in 2006 to provide a new and relevant opportunity for people with a learning disability to work together "with and for" their own community, and to play a valuable and developmental role in the life of that community.
The Vegetable Basket Service is an essential part of our programme. Working with our founding members in Cornhill, we researched and developed a doorstep delivery service of fresh vegetables that was much needed in our local community and one which enabled our members to develop their skills and "get involved." With hard work and lots of local support, the venture proved to be a great success. So much so, that over the years since we began, we have extended the service to deliver fruit, veg and fresh eggs to customers living in and around additional Border Links' bases in Berwick and Amble in Northumberland and Kelso and Duns in the Scottish Borders.
As the service has expanded, it has brought with it new opportunities for our members to meet other local people and to gain valuable work experience not only in retail and customer service, but also in work within our Administration Team, or as part of our Marketing Group.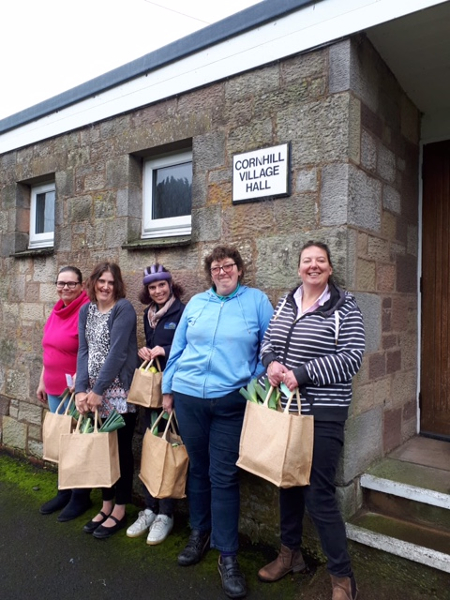 Members ready to deliver the produce
up to top
Cornhill and the Coronavirus pandemic of 2020
Cornhill Village Shop has made special provision for the local community
Copies of the flyer below were delivered to every household on 23rd March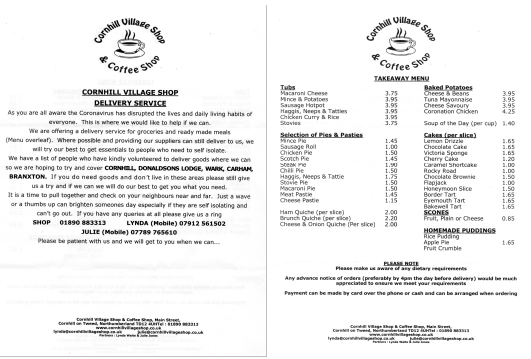 The shop has set up a delivery service and is offering take-away meals.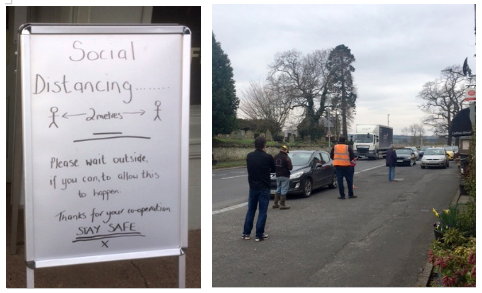 Visitors to the shop obeyed the rules today, 24th March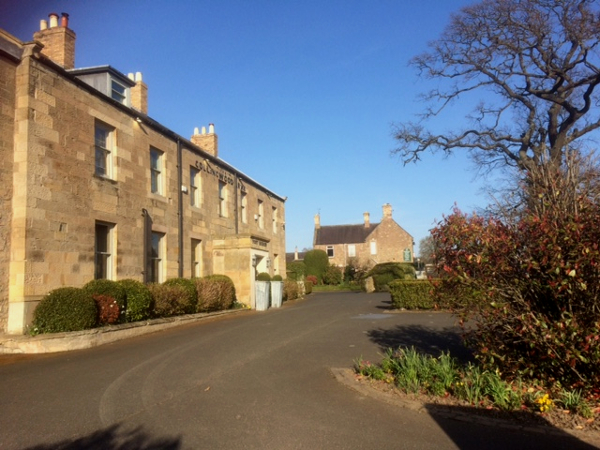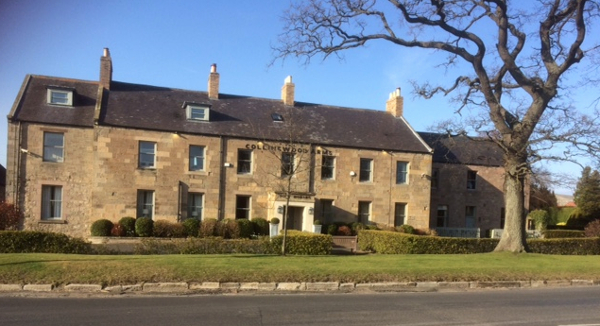 No visitors at the Collingwood - very sad to see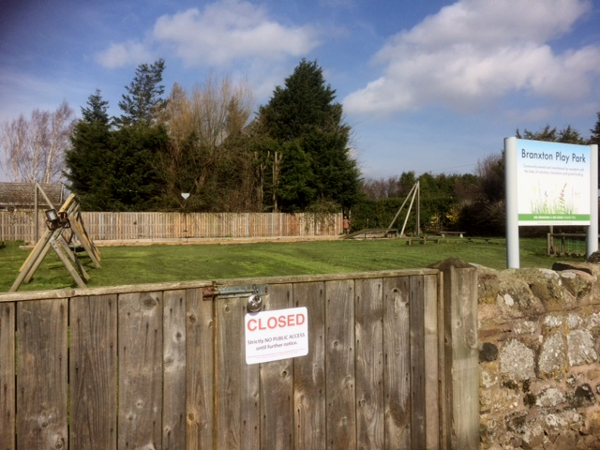 Branxton Play Park closed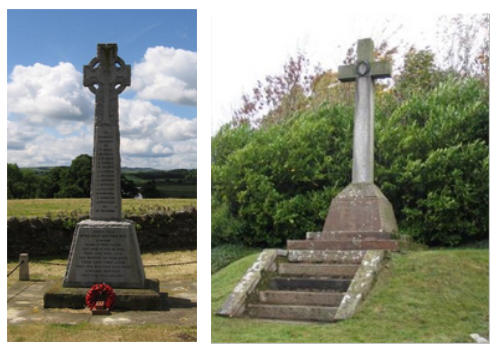 In their war, there was no chance of social distancing or self-isolation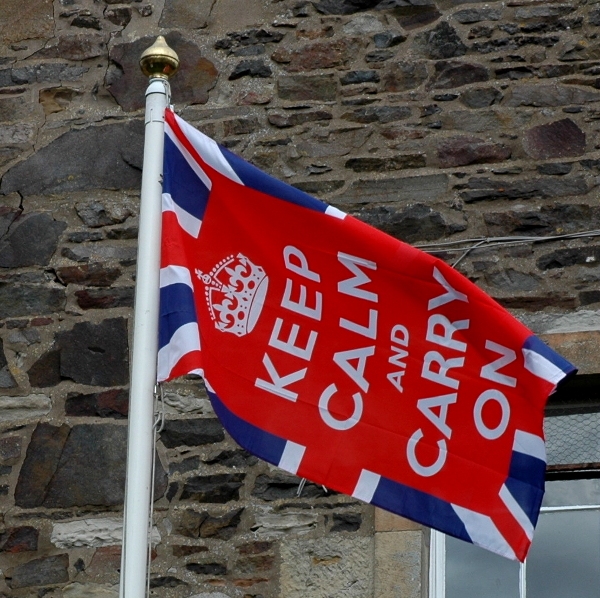 Many acts of kindness and selflessness in this community
Over the last week or so, there have been many acts of kindness by many people. One example: an elderly person was in trouble with technology and very distressed. Through the village network of people willing to help, a man who knew about these things, gave up his
time one afternoon and sorted it out. Problem solved. You know who you are; thank you!
A poem from Scotland (well, we are quite close), Author unknown
Tae a virus
Twa months ago, we didna ken, 
yer name or ocht aboot ye
But lots of things have changed since then, 
I really must salute ye
Yer spreading rate is quite intense, 
yer feeding like a gannet
Disruption caused, is so immense, 
ye've shaken oor wee planet.
Corona used tae be a beer, 
they garnished it wae limes
But noo it's filled us awe wae fear
These days, are scary times.
Nae shakin hawns, or peckin lips, 
it's whit they awe advise
But scrub them weel, richt tae the tips, 
that's how we'll awe survive
Just stay inside , the hoose, ye bide
Nae sneakin oot for strolls
Just check the lavvy every hoor
And stock-take, your loo rolls
Our holidays have been pit aff
Noo that's the Jet2 patter
Pit oan yer thermals, have a laugh
And paddle 'doon the waater'
Canary isles, no for a while
Nae need for suntan cream
And awe because o this wee bug
We ken tae be..19
The boredom surely will set in,
But have a read, or doodle
Or plan yer menu for the month
Wi 95 pot noodles.
When these run oot, just look about
A change, it would be nice
We've beans and pasta By the ton
and twenty stane o rice.
So dinny think yell wipe us oot
Aye true, a few have died
Bubonic, bird flu, and Tb
They came, they left, they tried
Ye might be gallus noo ma freen
As ye jump fae cup tae cup
But when we get oor vaccine
Yer number will be up.